Senior track and field athlete Devin Dirth's application for a medical hardship was approved two weeks ago by the NCAA, allowing Dirth to compete with the Tommies for a fifth season.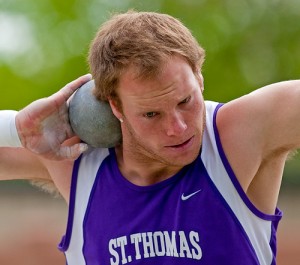 Dirth, who has played a key role in the St. Thomas track and field team's success the last four seasons, fractured his left foot and suffered turf toe last fall. This resulted in further complications and forced Dirth to get foot surgery and sidelined him for the 2012 season.
"It was sad," Dirth said. "I was really looking forward to this season, coming off a good season last year and looking to push things and better all of my scores."
Dirth is a two-time captain for St. Thomas, three-time letterwinner, two-time MIAC athlete of the week recipient, two-time MIAC decathlon champion, team MVP as a junior and a national competitor in the Division III championships.
During his time at St. Thomas, Dirth has competed in different events including shot put, discus, high jump, long jump, javelin, pole vault and the penthalon and decathalon.
With the Tommies losing some outstanding senior competitors, it was a relief for coach Steve Mathre to hear that one of the team's best athletes would be returning for another season.
"In his four years, he has been a tremendous example by his work ethic and guy you count on as a solid foundation to the program," Mathre said. "Having him back for another season will be like having another senior for another year, which you don't often get. It will be terrific."
Dirth is ecstatic to compete again, calling it a "relief" to know that getting the surgery paid off.
"I was happy because I figured out I can come back for another season and work on my goals that I set earlier in the season for this year, so I just have to continue working on those goals," Dirth said.
Senior Todd Gleason, who has been Dirth's teammate for four years, is hopeful that Dirth will do well next season.
"He will be dedicated to get back and be the best that he can, so I think it will just give the team a lot of potential for next year's season," Gleason said.
Junior women's track and field captain Katie Ryan said Dirth has still been a strong presence for his team on the sideline.
"He has supported his team the whole time he has been injured and it has just been great to have him around even though he can't compete," Ryan said.
With Dirth returning next season, he will be looking to have a great year personally and also lead a new group of teammates.
"We have a really strong team this year and we lose a couple seniors that are really crucial to the team," Dirth said. "We have had a good performance from our underclassmen and I'm looking forward to pushing them again like I have this year and last year and really getting them to score points."
Jake Swansson can be reached at swan7230@stthomas.edu.