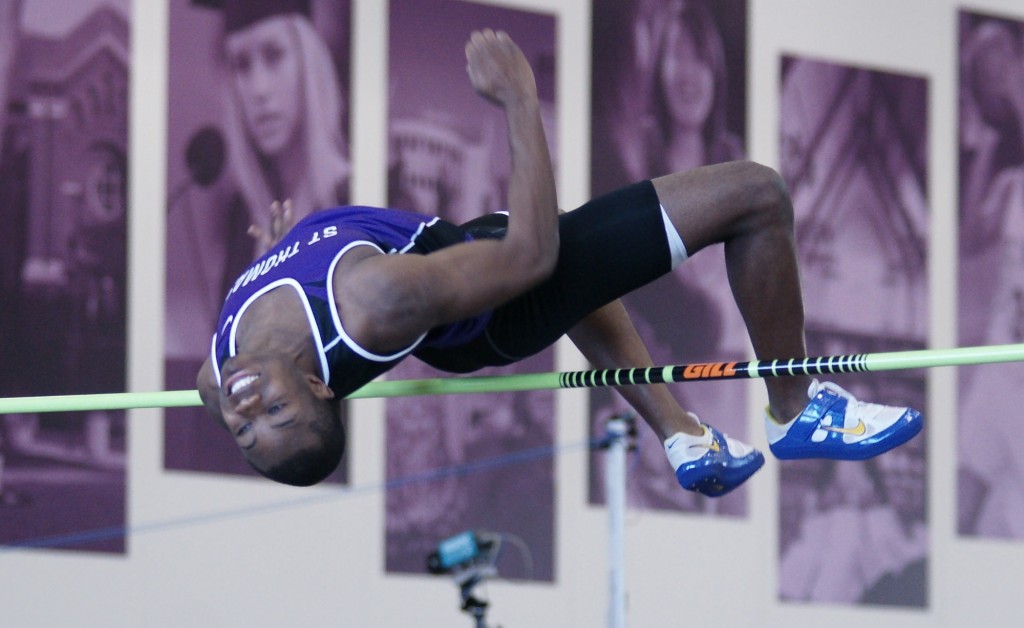 Senior All-American Mike Hutton, who is ranked second in the nation with an 800-meter race time of 1:49.45, is the top-seeded athlete from the St. Thomas track and field team competing at the NCAA outdoor track and field championships May 24-26 in Claremont, Calif.
Hutton won the indoor 800-meter title in March and said his experience and the pressure he puts on himself will help him take the outdoor title as well.
"I think that if I run a smart race, I think that I should be able to get after it. I've run against this (competition) before and I've had pretty good success with that and hopefully if continues," Hutton said.
Twelve Tommies will be competing in 10 events at the national meet: eight from the women's team and four from the men's team.
St. Thomas women's track and field coach Joe Sweeney said the number of athletes competing in the meet is an accomplishment.
"It's just exciting that on both the men and women's side that we've got a lot of action," Sweeney said.
The three other men's team participants are looking to place in their respective events. Junior All-American Eyo Ekpo is seeded third in the high jump, senior All-American Ben Sathre is seeded sixth in the 5,000-meter run, and sophomore Maxwell Dunne is seeded 17th in the decathlon.
Sathre, who captured an individual NCAA cross country championship title this fall, said he thinks he will have a competitive advantage because other runners will be competing in additional races.
"I'm guessing most of the kids will be tired and worn out," Sathre said. "I'm only running the one event, so I'm expecting to be challenging for a win just because I'll be fresh."
The St. Thomas women qualified in both the 4×100 meter relay and the 4×400 meter relay. Sophomores Emily Van Heel, Mallory Burnham, Christina Rozeske and freshman Angela Tipp are seeded fifth with a time of 47.04.
Van Heel said the women are aiming for a competitive placing.
"The higher the better," Van Heel said. "We're striving to break 47 seconds in our 4×100 relay and that should get us a higher place."
The 4×400 meter team is ranked ninth with a time of 3:49.87; freshmen Angela and Erika Tipp, senior Larissa Peyton and Van Heel make up the squad.
The Tommies will also be represented in the 100-meter dash with Rozeske seeded tenth at 12.00. Junior Taylor Berg is seeded ninth in the 1,500-meter run at 4:32.28.
Four Tommie women will be competing in two events at the national meet. Sweeney said he thinks it won't affect their performances once they get into the rhythm of the meet.
"It's spread out over three days so the rest and recovery issues aren't as crucial as they would be for a regular track meet when it might be just one day," Sweeney said. "I think that's going to help them and certainly it won't be a problem."
Sweeney also said the leadership and experience of senior captains Larissa Peyton, seeded 18th in the 800-meter (2:11.66), and Amy Maas, seeded seventh in the discus (147-5), will help to set the tone of the meet for their freshman and sophomore teammates.
"It's always good to have veteran leadership out there," Sweeney said.
For now, Sweeney says he has high hopes for his team to place in the top eight and attain All-American status, a feat he said is just the "icing on the cake."
"The ideal goal is to have everybody make All-American and come back with that special honor, and let's hope they can do that," Sweeney said.
Van Heel said the team is prepared for the meet and anxious for prelims.
"We're going to be really nervous, but it's a good nervous," Van Heel said. "We're just trying to live in the moment and just take in the whole California experience."
Heidi Enninga can be reached at enni5264@stthomas.edu.