Two members of the St. Thomas swimming and diving teams will travel March 23-26 to the Allan Jones Aquatic Center at the University of Tennessee-Knoxville to represent the Tommies at nationals.
Senior Becca Ney will swim at nationals for the third year in a row in the 50, 100 and 200 freestyle races. Last weekend, Ney earned first place in the 100 free at the MIAC championships, leading the women's team to a fourth-place finish.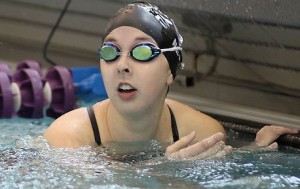 For the men's team, sophomore Sam Rauchwarter will swim the 100, 200 and 500 free. Rauchwarter will be swimming at nationals for the second year in a row.
Coach Tom Hodgson also submitted an entry Monday afternoon for the men's 400 free relay.
"It doesn't look like the men's relay is going to get in because they only take 16 [teams]," he said. "We are sitting at 18th right now. We hate to wish this on anyone, but say a team got sick or had to scratch, something like that, we wanted to be ready."
Hodgson, Rauchwarter and Ney said they are looking forward to nationals and will be spending the next month preparing for the meet.
"I think they are going to swim pretty well," Hodgson said. "Both of them have national experience. Both swam very well at nationals. We are basically just going to spend the next three weeks working on getting faster and maintaining our conditioning, but largely seeing if we can't find a few tenths here and there to get faster."
This year will be Ney's last chance at a national title.
"With nationals, it is just an honor to make it overall," Ney said. "Then once you are there, just making it back into the top 16 for finals at least will definitely be one of my goals."
Hodgson said Ney was "a little under the weather at conferences and still swam beautifully." He said he is looking forward to having her healthy and ready to go at nationals.
Rauchwarter said he thinks the meet will go well, but traveling will be interesting. For the last two years, nationals have been held at the University of Minnesota.
At the meet, Ney said all the MIAC schools will sit together and support one another.
"It's also just a really fun environment because you get to be with the other MIAC schools," she said. "Essentially we become a team MIAC or team Minnesota. We support each other and cheer for each other and get close with them over the time of nationals."
Maggie Clemensen can be reached at clem0427@stthomas.edu.