In a swift three-set victory Thursday afternoon, the No. 14-ranked St. Thomas volleyball team defeated No.7-ranked Wisconsin-Whitewater in the first round of the NCAA playoffs.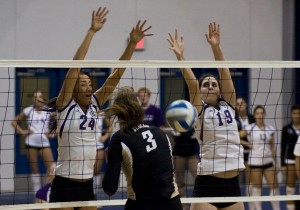 With set scores of 25-19, 25-23, and 25-17, the Tommies advanced to the second round and will play Luther College at 4:30 p.m. Today in Oshkosh, Wis.
St. Thomas was eliminated by Whitewater in the 2006 and 2007 regional playoffs but only trailed once the entire match on the way to this year's first round win. This was the first time since 2004 the Warhawks have been eliminated in the first round, drawing its 22nd tournament appearance to a close.
The Tommies were led by senior Kyley Crotty and junior Katie Bonine with nine kills each, helping St. Thomas post its fifth consecutive 25-win season. Junior Alesha Nelson contributed seven kills and junior setter Emily Foster added 30 assists and eight digs.
In today's semifinal round, the sixth-seeded Tommies face seventh-seeded Luther, which is making its first tournament appearance in school history. The Norse are coached by 2004 St. Thomas graduate Jane Gibbs, who was named 2009 Iowa Conference Coach of the Year. As a setter at St. Thomas, Gibbs was a two-time All-American and MIAC Player of the Year her senior season.
Luther players to watch include sophomore All-Conference hitter Emily Cory, who has 852 career kills, and senior libero Grayce Hamlin.
The winner of today's match will play the winner of the Eau Claire-Oshkosh match. The final game of the eight-team regional will be played Saturday night at 7 p.m.
Sally Schreiber can be reached at sfschreiber@stthomas.edu