St. Thomas will host the NCAA Division III volleyball regional finals Friday and Saturday in the new Anderson Athletic and Recreation Complex, and St. Thomas will also play in the tournament.
Volleyball Coach Thanh Pham said the team hopes for a big turnout for the regional event.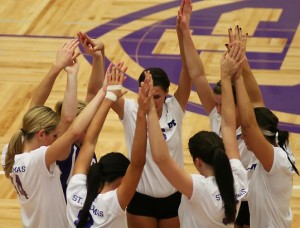 "The staff and students and fan base have been great all year," he said. "There are a lot of good teams here. If we play our best, maybe we can knock a few off."
No. 11-ranked St. Thomas will face the No. 25-ranked Puget Sound Loggers from Washington at 8 p.m. Friday. The Loggers went 18-6 and St. Thomas went 28-6 this season. Both schools received an at-large bid into the tournament.
Pham said St. Thomas has not seen Puget Sound in a few years.
"We aren't exactly sure what they're going to bring to the table," he said. "We know that we have to play well in order to win, so we are going to try to play well."
Other MIAC schools in the region include Concordia-Moorhead (24-6) and St. Olaf (29-4). St. Thomas lost the MIAC championship title Saturday, and the Oles swept the Tommies. The Tommies never led at any time during the match.
Pham said the team will focus on one match at a time.
"St. Olaf is the No. 1 seed in the bracket and they've beaten us twice already, but we can't worry about them until we take care of everyone else in our bracket," he said.
Other teams in the tournament include Washington's Whitworth University (17-6), Northwestern College (26-13), University of Wisconsin-Eau Claire (24-9) and Nebraska Wesleyan (11-1).
Pham said the team's strategy is to "work hard and trust in what we're doing."
"We've been doing well all season, so we are going to try to stay the course," he said. "There will be a few new wrinkles in the game plan, but what we've been doing all year has been pretty successful against most teams."
The complete NCAA bracket was released Monday afternoon. Regional champions will advance to the final rounds held Nov. 19 to Nov. 21 at Washington University in St. Louis, Mo.
Maggie Clemensen and Colleen Schreier contributed to this report.
Theresa Malloy can be reached at mall5754@stthomas.edu.