Coach Thanh Pham and the St. Thomas volleyball team look to build off last year's impressive fifth-ranked overall finish as it begins the 2012 season. The Tommies finished 32-5 and shared the MIAC conference title at 10-1.
Pham said he knows it won't be easy for the team to repeat its success.
"It takes a lot of composure, it takes a lot of hard work, and there is no magic to it," Pham said.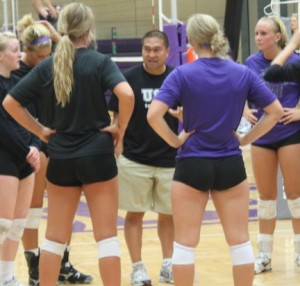 Pham also said that it won't be easy to get back to the MIAC championship either.
"The target is huge, we've won or shared five straight MIAC titles," Pham said. "If a team beats us, I know it's going to make their season."
Pham enters his 10th year coaching St. Thomas with a record of 248-62. During that tenure, Pham's accumulated numerous accomplishments: three-time MIAC Coach of the Year honors, six MIAC titles and seven NCAA playoff appearances.
The Tommies were ranked seventh in the American Volleyball Coaches Association's preseason poll. However, Pham isn't fazed.
"Preseason rankings of us don't mean much. It's just a reflection of how we did last year," Pham said.
Last year's Tommies had an experienced group of players led by senior setter Ashley Maher.
"She was the team mom and also the general on the floor," Pham said.
Maher was named an AVCA All-American and Capital One Academic All-American last season.
With Maher graduated, the Tommies maintain a core of talented players still capable of leading the team back to the NCAA Tournament.
One of the talented players is sophomore middle blocker Kelly Foley. Foley earned several awards including National Freshman of the Year and MIAC Rookie of the Year honors.
Foley said that she sets the team goals ahead of personal gain.
"(I must) work hard and not focus on getting more individual awards," Foley said. "I would rather just work hard in practice and hope the team does good this season."
Pham is impressed with the intangibles Foley brings to the team and the game.
"She is one of the hardest workers on the team," Pham said. "She leads with the way she does things."
Foley isn't the only returning player coming off a productive season last year. Senior libero Kaiti Wachter took home MIAC Defensive Player of the Year and was a member of the third team All-America and MIAC All-Conference teams.
Wachter knows repeating last year's form will prove difficult, but has goals to get there.
"Work harder and get first team All-American," Wachter said.
The players and coaches have high hopes for this season and believe they can improve on last year's success.
"We have the ability to be one of the best teams in the country," Pham said.
The Tommies are currently ranked eighth sporting a 8-1 record this season after competing in tournaments in Winona, Minn. and Atlanta.
Jesse Krull can be reached at krul7386@stthomas.edu.