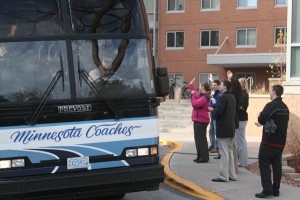 The No. 9-ranked Tommie volleyball team left Wednesday morning for Oshkosh, Wis., to compete in the 2009 NCAA Division III Tournament.
The team will play Thursday in an opening match against No. 7-ranked UW-Whitewater in the single-elimination tournament.
This is the 11th time, and the fourth year in a row, that the St. Thomas volleyball team is in the NCAA playoffs.
The Tommies lost in the semifinals of the MIAC playoffs last week to No. 21-ranked St. Olaf, ending their five-match winning streak.
Mary Kenkel can be reached at mlkenkel@stthomas.edu.