After losing to St. Olaf in the MIAC playoffs, the St. Thomas volleyball team received a second chance with an at-large bid into the NCAA Division III playoffs. The sixth-seeded Tommies boarded the bus this morning on the way to Oshkosh, Wis., where the Tommies will take on the third-seeded University of Wisconsin-Whitewater at 12:30 on Thursday in the first round.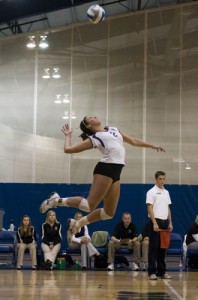 The Oshkosh Regional features seven matches, with four scheduled for Thursday, two for Friday (Nov. 13) and one for Saturday (Nov. 14). The winner of the Oshkosh Regional joins seven other regional champions in the quarterfinal round of the 62-team NCAA Division III Championships on Nov. 19 in University Heights, Ohio.
Making St. Thomas' 11th tournament appearance, the Tommies are in a bracket that includes six teams ranked nationally by the American Volleyball Coaches Association. Junior Carlie Waibel said her team is aware of the challenging teams they may face.
"You have Oshkosh, who has consistently been number one in the nation, and other talented teams like Eau Claire," captain Waibel said. "Every team is ranked high, and they're good."
The Tommie's first opponent, Wisconsin-Whitewater, is making its 17th consecutive and 22nd overall NCAA playoff appearance. While Whitewater knocked the Tommies out of the 2007 regional finals and 2006 semifinals, Waibel said her team's main goal is not necessarily revenge, but playing its best.
"It's been the overall theme of the season, not to worry about the other team and instead play our game and accept the responsibility," she said. "Our coach stressed that this is a second chance, because we didn't get the automatic bid. It's a huge opportunity and really, we have nothing to lose at this point. We're just going out there and having fun."
The College of St. Benedict shared the MIAC regular season title with St. Thomas and will be playing seventh-seeded Luther College in the 3 p.m. match on Thursday. If St. Thomas and St. Ben's both win, the two teams could face each other for the third time this season.
Regional Tournament Schedule:
Thursday, Nov. 12
12:30 p.m. No. 3 Wisconsin-Whitewater (31-6) vs. No. 6 St. Thomas (Minn.) (24-7)
3 p.m. No. 2 St. Benedict (Minn.) (26-5) vs. No. 7 Luther (Iowa) (25-11)
5:30 p.m. No. 4 Wisconsin-Eau Claire (30-7) vs. No. 5 St. Olaf (Minn.) (27-4)
8 p.m. No. 1 Wisconsin-Oshkosh (35-2) vs. No. 8 St. Norbert (Wis.) (24-9)
Friday, Nov. 13
4:30 p.m. Winner of Match No. 1 vs. Winner of Match No. 2
7 p.m. Winner of Match No. 3 vs. Winner of Match No. 4
Saturday, Nov. 14
7 p.m. Winner of Match No. 5 vs. Winner of Match No. 6
Sally Schreiber can be reached at sfschreiber@stthomas.edu