The St. Thomas men's and women's track and field teams traveled to Berea, Ohio this past weekend for the NCAA Outdoor Track and Field Championships hosted by Baldwin-Wallace College.
The men sent seven athletes and the women sent eight to the meet, including a number of All-Americans on both teams.
Women's track and field team
The women's team tied for 13th place thanks to standout performances from the Tommies that secured 18 team points and numerous All-American honors for individuals.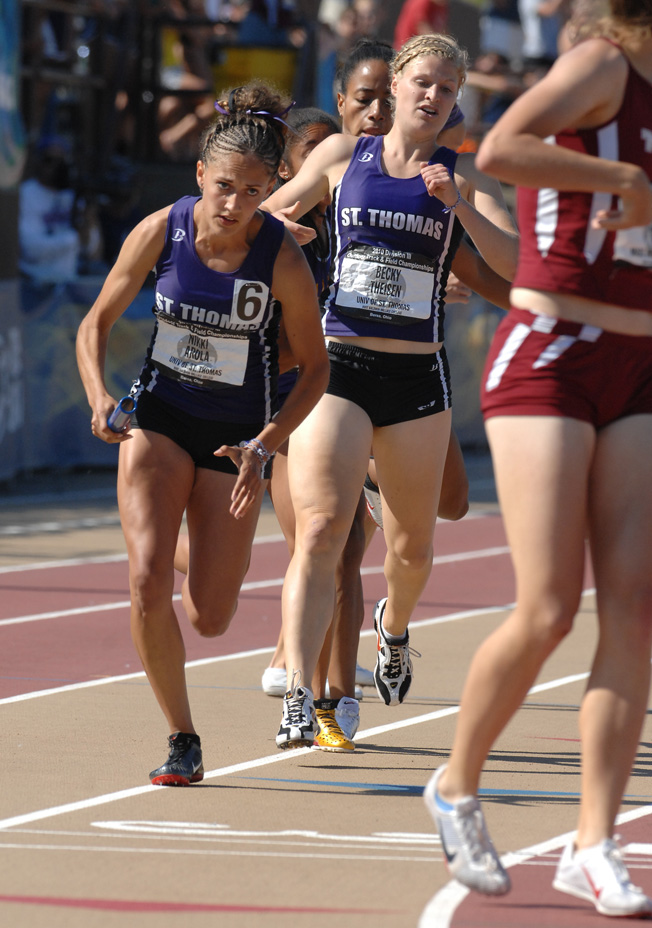 Senior Kyley Crotty received her first All-American honor, set a new school record, and was the runner-up in javelin. She threw a career-best 150-0 and contributed 8 points to the team total.
The women's 4 x 400 relay team, which consisted of seniors Nikki Arola, Molly Demmer and Kelly Russ and junior Becky Theisen, took fifth place in the finals with a time of 3:48.26.
"We ran our season bests in finals today," Arola said. "It was really awesome, and we're All-Americans."
By advancing to the finals, the women's relay team carried on a 28-year-long St. Thomas tradition: having at least one men's or women's relay included in the NCAA outdoor finals.
In addition to contributing to the relay team's success, Russ advanced to the finals in the 1,500 meter run and took third place with a career-best 4:28.55 that allowed her to repeat as an All-American.
"It was a packed field, with everyone fighting for those eight spots [in the finals]," Russ said. "But it ended up going pretty well. I was in 10th going into the last lap with a few hundred to go. I found a little kick in me and made it up to third place."
Illinois-Wesleyan University won the team championship with 54 points.
Men's track and field team
The men's team struggled more than the women's team in overall team points, but some individual athletes still placed high in their respective events.
Freshman Eyo Ekpo placed fifth in the triple jump and earned All-American honors. His jump, just five inches out of second place, was the second-best triple jump in St. Thomas history.
Sophomore Mike Hutton's sixth place finish in the 800 meter run with a time of 1:53.82 earned him an All-American as well.
"I went out fast and kind of hit the spot I talked about with my coach and got to the last home stretch," he said. "I didn't run as fast [as at preliminaries] but I was still happy because it was hot out. It was a good race and an improvement from last year."
In the 5,000 meter, sophomore Ben Sathre placed 14th out of 17 runners with a time of 15:24.98.
One of the challenges the team encountered was senior Pat Jager injuring his foot during a preliminary run. Although he finished the race, his foot appeared to be broken. In addition, during the 400 meter hurdles, senior Joe Rohlfing was knocked to the ground by another runner who fell into his lane. Rohlfing was given the chance to redo the race, but had to run alone and didn't get a good enough time to advance to the finals.
The men's team earned a combined total of seven team points and ended up in 46th place, a significant drop from last year when the team took third place in the outdoor championships.
Katie Broadwell can be reached at klbroadwell@stthomas.edu.