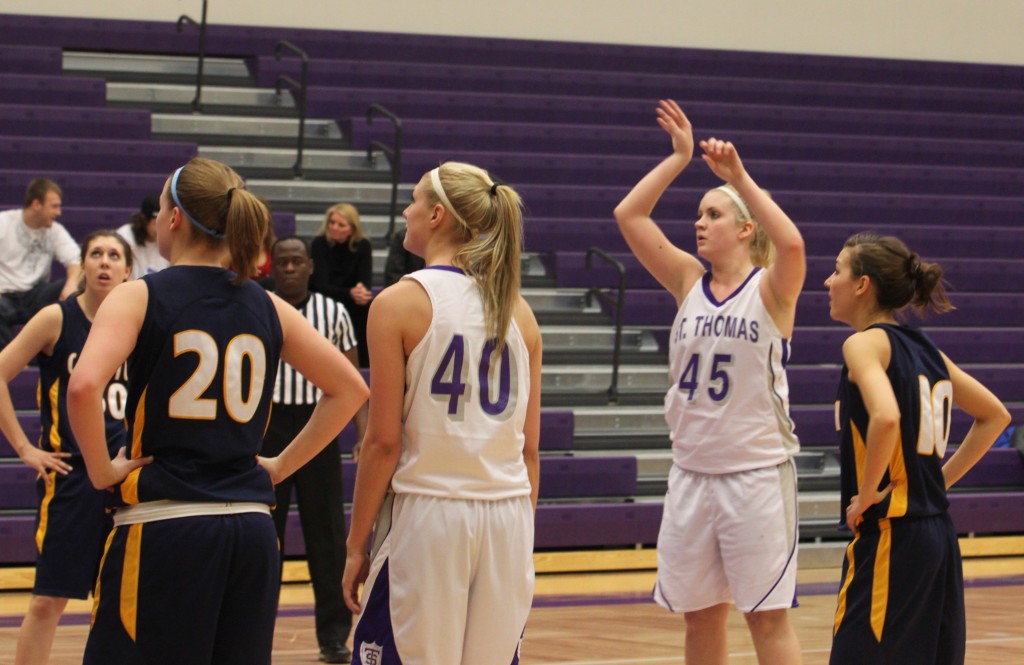 Sarah Smith's game-high 17 points carried the St. Thomas women's basketball team over Carleton 79-57 at home Wednesday night and into sole possession of the MIAC lead.
The first half started strong, with the Tommies taking a 13-0 lead in the first two minutes of the game. The women executed offensively throughout the game, posting 42 points at halftime, but assistant coach Katie Alsdurf attributed the win to the defense.
"I think we did a lot of good things on defense early that got us a nice lead, and we worked on a couple of different things at practice that translated over into our game," Alsdurf said. "I thought that was a nice job for our girls to take what we've learned in practice and bring it to our game."
The women held strong in the second half, despite being out-rebounded 35-28. Senior Rachel Booth did her part on the glass, however, grabbing seven rebounds and swatting a game-high three shots.
"That's probably one of the better games that we've had getting the ball around, and just playing together and feeding off of each other's energy," senior captain Jazmin Townsend said.
Freshman Taylor Young added 13 points and three assists. She was one of 12 players who scored for the Tommies.
"We came out with energy and that gave us the boost we needed," Young said.
Alsdurf agreed, and attributed the Tommies' success to executing practice strategies in the game.
"We've been really emphasizing making the extra passes," Alsdurf said. "We made the extra passes a lot of times, and found wide-open shots and wide-open people."
The Tommies, who have a one-game lead over St. Ben's, face a tough Gustavus team Saturday, Feb. 12, at St. Peter.
"Gustavus is a different team. They're always upbeat and always test us," Townsend said. "I think the attitude we've had these past couple games will naturally carry over, but we will have to have a tougher attitude going into that game."
Tarkor Zehn can be reached at zehn0241@stthomas.edu.