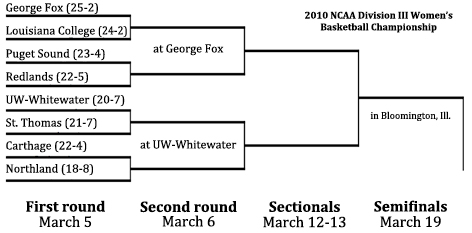 The Tommie women's basketball team (21-7) will open the 2010 NCAA Division III tournament at 8 p.m. Friday in Whitewater, Wisc., against the hosting Warhawks (20-7).
St. Thomas will be making its 18th tournament appearance, after becoming the first five seed to win the MIAC tournament with its overtime victory Saturday against four-time defending MIAC champion St. Benedict .
St. Thomas had a strong finish to the season, winning its last four games and 11 of its last 13. The Tommies finished with an overall record of 21-7 and went 15-7 in conference play.
UW-Whitewater, the regular season Wisconsin Intercollegiate Athletics Conference champion, got an at-large bid into the tournament after finishing runner-up in the WIAC tournament.
The Warhawks come into the game having won five of their last six and are led by three senior starters, Kelsey Hendrickson, Nicole Bundy and Heidi Sontagg, who all averaged double-digit points this season.
St. Thomas junior forward Jazmin Townsend said limiting the success of all three will be a top priority for the Tommies on defense.
"I think it is going to be all about stopping all three players and making them look elsewhere," Townsend said. "We are very defensively oriented… We need to clog the lanes and work from there."
The Warhawks have an edge in recent postseason experience, with this year marking their third-consecutive NCAA tournament appearance. But the Tommies have been formidable away from home, having already won 13 games on the road this season.
Townsend said she's confident her team will continue its strong play away from home.
"I think that will be a big beneficial aspect of the tournament for us," Townsend said. "I just think that no matter where we play, it's not going to affect how we play as a team, and it has shown throughout the season. We're capable of playing the style of basketball that we know how to play anywhere."
St. Thomas will look for another strong game from Rachel Booth, who is averaging 17 points and 9.3 rebounds per game this season. Booth and the rest of the Tommies will try to take advantage of an inexperienced interior core for the Warhawks.
The Tommies, who are allowing just 59 points per game, will have to stop a Warhawk offense that is averaging more than 70 points per game. The game could hinge on St. Thomas' ability to contain the perimeter scoring of UW-Whitewater.
If the Tommies win Friday night, they will face the winner of Carthage College and Northland College at 7 p.m. Saturday.
While the Tommies are optimistic about their chances of advancing, Townsend said the tem isn't looking beyond Friday's game.
"Now that we're in it, it's time to take the whole tournament," Townsend said. "But with that said, it needs to be game by game. You can't look ahead of an opponent."
The games will be played at the Williams Center on the UW-Whitewater campus, and tickets for both games are available for $8 for adults and $3 for students.
Brent Fischer contributed to this report.
Michael Ewen can be reached at mtewen@stthomas.edu.