After a 4-2 semifinal playoff loss to Bethel Thursday night at home, the St. Thomas women's hockey season came to an end.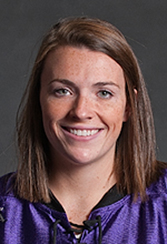 This was the Tommies 10th straight year in the MIAC playoffs, and they are 7-2 in their last nine MIAC semifinal games.
"I think we need more enthusiasm on and off the ice," junior Taylor Schluter said. "We need to get pumped up and get excited. Everyone was [kind of] flat."
Bethel started things off first, with senior Allison Papko scoring a goal late in the first period. Midway through the second, sophomore Biz Huss added to the Royals' lead, beating Tommie goalkeeper Alise Riedel.
In the opening minutes of the third period, the Tommies got on the board when Schluter connected on a shot from Katie Psimos to make it a 2-1 game.
However, the Tommies' momentum was short-lived. Bethel answered back when Huss scored her second goal of the game. Seconds later, sophomore Sarah Kartak put the Royals up 4-1. St. Thomas sophomore Korinne O' Connor scored with six minutes left to play, but the goal proved to be the game's last.
"The positive is that we have a really young team," O'Connor said. "From this game we learned a lot, and there are a lot of things we can improve on for next season."
For the Tommie seniors, it was their last game in the "purple and white."
"It's always hard to have kids who play for four years and they go out on this note," coach Tom Palkowski said. "I think they can hang their heads high, and have pretty successful careers and move on from there."
With the win, the Royals advance to their first MIAC championship game. They will take on top-seeded Gustavus Saturday on the road.
Kelsey Schultz can be reached at krschultz2@stthomas.edu.