Junior defender Stephanie McCartan's lone goal helped lead the St. Thomas women's soccer team over Wisconsin-Eau Claire 1-0, Wednesday, Oct. 17.
St. Thomas (5-9-1) jumped out to an early lead when McCartan netted a goal in the 20th minute on an assist from sophomore defender Kelsie Sargent.
The Tommies outshot the Blugolds (8-7-1) 13-12 and controlled the tempo from start to finish. Coach Sheila McGill said she was proud of how her team battled for the entire game.
"We focused on the extra things today, the extra runs, the extra movement off the ball, the extra efforts put in," McGill said. "Having a complete 90 minute game is really what made it come together."
The Tommies had a 9-2 advantage over the Blugolds in corner kicks. McCartan said she thought her team played well.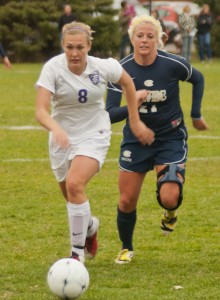 "Our movement off the ball, especially in the first half, was excellent," McCartan said. "We were able to create space and that resulted in many opportunities to score."
The Tommies came into this game on a three-game losing streak, and are returning back to play in Minnesota, after traveling to Los Angeles for two games last weekend. St. Thomas has compiled seven one-goal losses this season.
Sophomore midfielder Taylor Sabrowski, currently the team's points leader with seven, said she was relieved to finally win a close game.
"It's a good feeling to come out on top of a 1-0 game," Sabrowski said. "I think we really fought well the entire game tonight."
Junior goalkeeper Callan Faulkner emulated a brick wall the entire game and finished with eight saves.
The Tommies are back in action Saturday when they host Gustavus Adolphus at 1 p.m., and Carleton College on Oct. 24. McGill looks forward to finishing the year on a strong note.
"We need to focus on one game at a time," said McGill. "Making sure we show up to play the 90 minute game with intensity, and making sure that everything is coming together."
Kyle Jonas can be reached at jona7984@stthomas.edu.