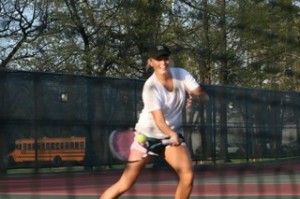 With only two matches left and the conference tournament two weeks away, the women's tennis team (10-4, 6-2 MIAC) is hoping for a strong finish.
Nearing the end of his 20th season at St. Thomas and 15th as the women's coach, Terry Peck said the team has had a solid year.
"Besides Gustavus, our losses have been 5-4, close matches, with all of them being decided in a third-set tiebreaker," Peck said. "We're right there, pretty close to having a one-loss season."
Despite a disappointing 5-4 loss to St. Olaf in March, Peck said his team can finish third in the MIAC behind nationally-ranked Gustavus and Carleton.
Junior Alex Frank (9-4, 5-3) has been a major contributor in her third season at the top singles position.
"It's going better this year," Frank said. "It's hard playing the best players on every team, but it's still a lot of fun with the support of my teammates."
Seniors Allie Bruflodt, Hadley Syverud and Suzanne Brophy have led the Tommie's successful season, and freshman Mary Allen has surprised her teammates after stepping in for an injured player at six singles. She was also the only player to record a win against powerhouse Gustavus.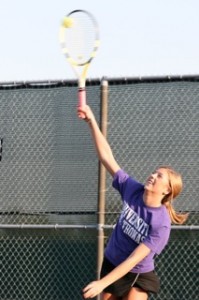 "Everyone has stepped up," Bruflodt said. "Mary is the biggest freshman coming in that has helped us. We've done really well, and we're just trying to stay focused throughout our last two matches."
The first of those matches is at Carleton on Friday and will help determine the Tommies' conference position heading into the MIAC tournament May 7.
A season with no home
Similar to the men's team, the women are also without home courts this year after the addition of the parking ramp on South Campus.
The teams practice together at St. Paul Academy, and Frank says there isn't enough room for everyone to practice.
"It definitely is difficult without the courts," Frank said. "We have to work a lot harder to practice as a team. The new freshman coming in who aren't a part of the main lineup can't hit with us, which is kind of a downer."
Peck, who coaches both the men's and women's teams, said he's given up home matches to opposing schools because of the cost of court rental. He said a plan has been suggested to build tennis courts on South Campus behind the Binz Refectory.
"We're supposed to get them next year, so I'm staying positive about that," Peck said.
The new Anderson Athletic and Recreation Complex will have tennis courts in the field house that the team will be able to use during the winter.
"I'm hoping we'll have both indoor and outdoor soon, and I believe the tennis teams will take off and be stronger," Peck said.
Michael Ewen can be reached at mtewen@stthomas.edu.