[slidepress gallery='101204_whockey']

The St. Thomas women's hockey team beat Gustavus 1-0 Friday night at home in Mendota Heights.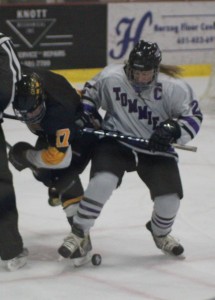 Junior Jamie Tiede led the Tommies (4-2-1 overall, 4-0-1 MIAC) to victory with a third period goal.
"Usually whenever we play Gustavus we never come out the first period right with them, right on them, and I felt like our first period we were right on them, stride for stride with them the whole time," Tiede said. "Everyone played well, and the team did great, and our goaltender was amazing."
Freshman goalkeeper Alise Riedel stopped all 26 shots on goal, shutting out the Gusties.
With an even amount of shots on goal between the two teams, coach Tom Palkowski said he was pleased with the team's effort.
"This is by far the fastest team we've had at St. Thomas, and it was just a matter of getting some confidence going," Palkowski said. "We did a nice job of basically playing them even-out."
Palkowski said he hopes this confidence level continues in future games.
"Any time early in the season you get a big win, you just hope you can follow it up and not be satisfied," he said.
Tiede said she hopes the teamwork from this game continues in future games.
"I'm just hoping for the same positive end result. You know, everyone working hard, everyone keeping their feet moving, doing the little things that they need to do and just playing and working as a team," Tiede said.
The women's hockey team will play Gustavus Saturday afternoon in St. Peter, Minn.
Rebecca Omastiak can be reached at omas5009@stthomas.edu.