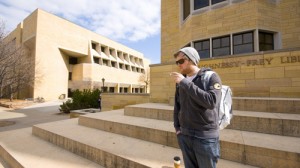 More than 200 campuses across the nation have gone smoke-free, according to the American Lung Association in Oregon, and St. Thomas junior Ariel Kendall thinks it's St. Thomas' turn too.
March 13, Westminster College in Missouri also decided to ban smoking from its campus. The ban will go into effect July 1 and means students, faculty and staff will have to smoke in personal vehicles or off campus grounds.
Kendall began her smoke-free grassroots initiative when she was a freshman, but progress has been slow. Originally she teamed up with Birdie Cunningham, health educator in the Wellness Center. She is now working with Bob Douglas, chair of the Sustainability Committee, who thinks smoking is an environmental issue as much as it is a health issue.
"Part of being sustainable isn't just about reducing our carbon footprint. It's living a sustainable life, and smoking is not sustainable," Douglas said.
Douglas and Kendall both think they need more student support before their work can move forward.
"If there is a student movement, we know that will have more weight with the administrators," Douglas said. "The students are the clients of the University of St. Thomas, and if it's something that's important to them, it becomes more important to the administration."
Kendall created a Facebook group called "Tobacco-Free UST," which has 53 members. She has also attended lectures and forums at the University of Minnesota and has had several meetings with St. Thomas faculty and staff members to gain support.
Kendall wants to have the smoking ban implemented to improve the health of the St. Thomas campus and its community members.
"[The U of M] is a huge school, and to know that they are working toward this too, it really says a lot about just smoking in general and the health hazards and what colleges in America [are] really going toward," she said.
Student reactions
A survey conducted by the Wellness Center in 2007 found that 24.2 percent of St. Thomas students consider themselves smokers. That number was lower than the national average, which was at 28.6 percent that year. The number of smokers at St. Thomas has been steadily decreasing since 2002. The Wellness Center is currently conducting its 2010 survey.
Some student smokers, such as senior Charles Seo, think a smoking ban is unnecessary. But Seo said he wouldn't mind having designated smoking areas.
Still, others think a smoking ban outdoors is outrageous, such as freshman Emily Shroeder.
"I think it's ridiculous," Shroeder said. "We're all outside … To be outside and not be able to smoke on campus? I'd just walk across the street and smoke then. It would do nothing. I just don't think you should have a smoking ban in a free country. You took it out of bars and restaurants and stuff; you can't do it on a campus."
Some non-smokers, including senior Leigh Ann Thul and junior Adam Mallory, don't necessarily agree with a ban.
"Personally, I am not a fan of smoking, so I would be OK with campus being smoke-free, but I think that would be a big deterrent for a lot of people," Thul said.
Mallory has friends who smoke and said if they're following the rules about smoking outside, there shouldn't be a problem.
"I don't know what having a campus be smoke-free is going to do for us that the rules in place [don't] do already," he said.
Smoking history at St. Thomas
Effective Sept. 1, 1993, St. Thomas banned "smoking in all buildings on the St. Paul and Minneapolis campuses and in all university-owned vehicles." The policy also states that the exception to this rule is in the limited number of smoking lounges in the St. Paul campus.
But this tobacco policy is outdated because no places on campus currently allow smoking indoors..
According to a 1975 Aquin article, a smoking area in the Grill was set up in November of that year, since the Minnesota Clean Indoor Air Act went into effect that August. The Minnesota Clean Indoor Air Act forbade smoking in all indoor areas except those designated as smoking areas. But the Grill's smoking section was closed in 2005 after a new ordinance was put into effect in Ramsey County prohibiting smoking in restaurants.
Continued efforts
Currently, 15 colleges and universities in Minnesota have successfully gone smoke-free, including Bethel University, Northwestern College, the University of Minnesota-Duluth, and Winona State University. St. Catherine University and the University of Minnesota-Twin Cities are both working on becoming smoke-free campuses as well.
For now, Kendall and others will continue to work toward a smoke-free campus at St. Thomas. Right now, their main focus is getting students to band together and work toward this common goal.
"Even if it's, you know, we get smokers actually following the rule of '30 feet away' or if we get more cigarette butts in the receptacles … or maybe it's getting people to quit or educating people, it's just taking those steps because it is such a long process," Kendall said.
Stephani Bloomquist can be reached at slbloomquist@stthomas.edu.