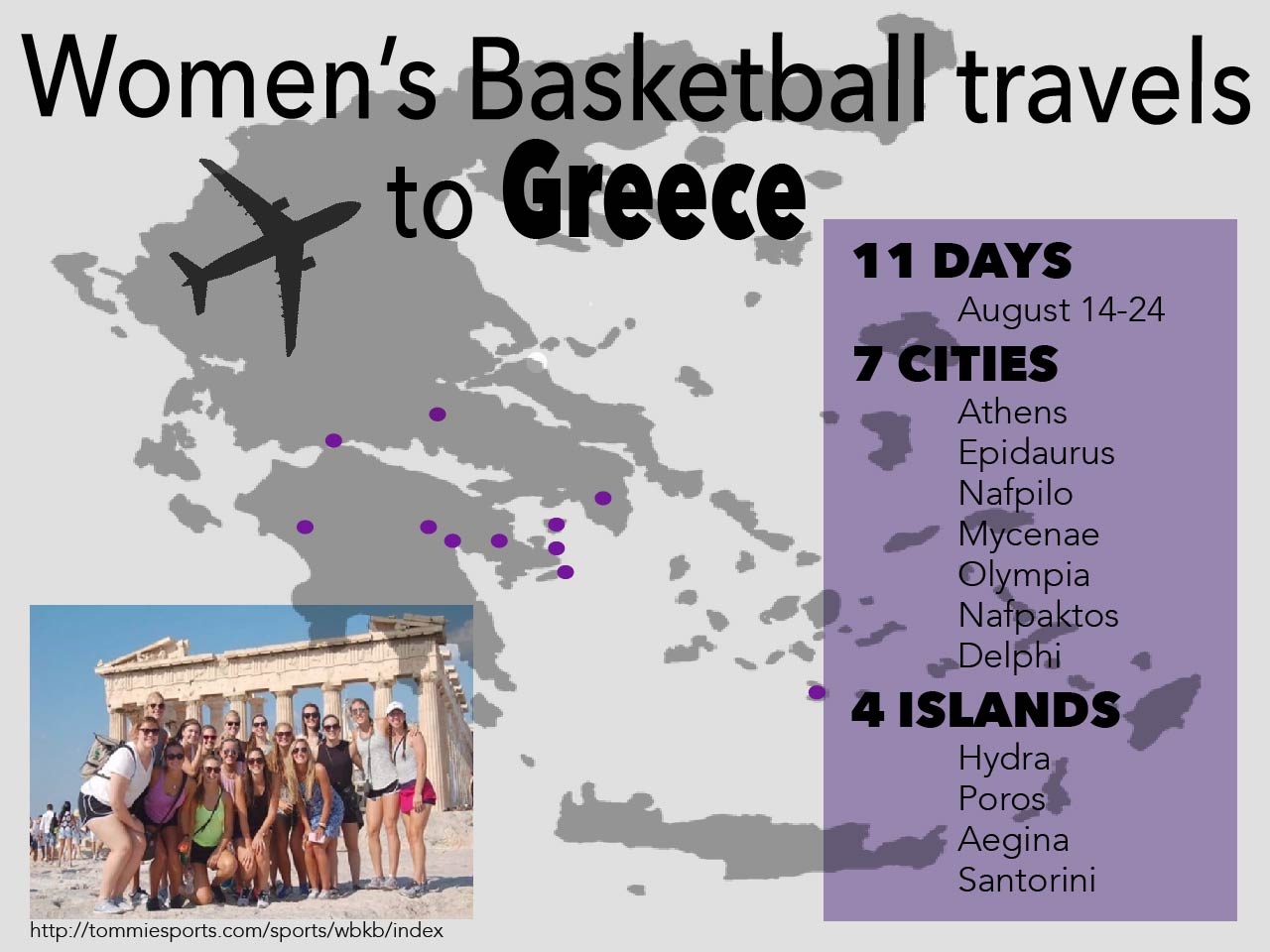 The St. Thomas women's basketball team set out for an 11-day trip to Greece beginning Aug. 14 to gain international experience and grow as a team as they prepare for the upcoming season.
Head coach Ruth Sinn set the itinerary, which included 10 practices, two international friendlies against semi-professional Greece teams and sightseeing around the country.
"We were really thankful for (the competition)," junior guard Lucia Renikoff said. "Going into another country, you never know how serious they take basketball, and we were really pleasantly surprised."
Both games resulted in Tommie victories, but neither game could be considered an ordinary scrimmage.
The first "friendly" was held in the midst of an electrical storm. Power outages prior to tip-off caused a 45-minute delay. The city's mayor and two hometown Olympians attended the game to introduce a new basketball court.
More important than the result of the game was the team's exposure to international rules, which are designed to speed up the pace of the game.
"The lane is wider, the 3-point line was farther back, normally we have a 30-second shot clock; it was down to 24," Sinn said. "It was perfect for us because we want to play a more up-tempo style of game this year."
Look for the Tommies to push the pace and play an exciting brand of basketball this season, Sinn said.
Another major part of the trip was to help inaugurate the girls into their new roles on the team. The Tommies graduated three starters from last year's 31-1 team, including the MIAC Player of the Year, Kaitlin Langer. This season Sinn is looking for new girls to lead if they hope to repeat last season's success.
"It was fun to watch our girls assume different roles, different leadership, and really start to take that next step," Sinn said.
The trip was not all business. The team explored archeological ruins from 1600 B.C. and visited the home of the Greek goddess Athena, who symbolizes competition – fitting for some of the university's most competitive women.
The Tommies also benefited from collectively "unplugging." Greece's mountainous terrain made connecting to Wi-Fi a chore.
"There were no cell phones, no Wi-Fi," senior guard Maddie Wolkow said. "I was with 15 of my closest friends and I learned new stuff about all of them."
Close team camaraderie may prove to be crucial as player roles develop throughout the season.
"We have young women that have been waiting for their turn," Sinn said. "This trip helped us find our identity coming into the season and we're going to be a very strong team."
Kyle Manderfeld can be reached at mand4052@stthomas.edu