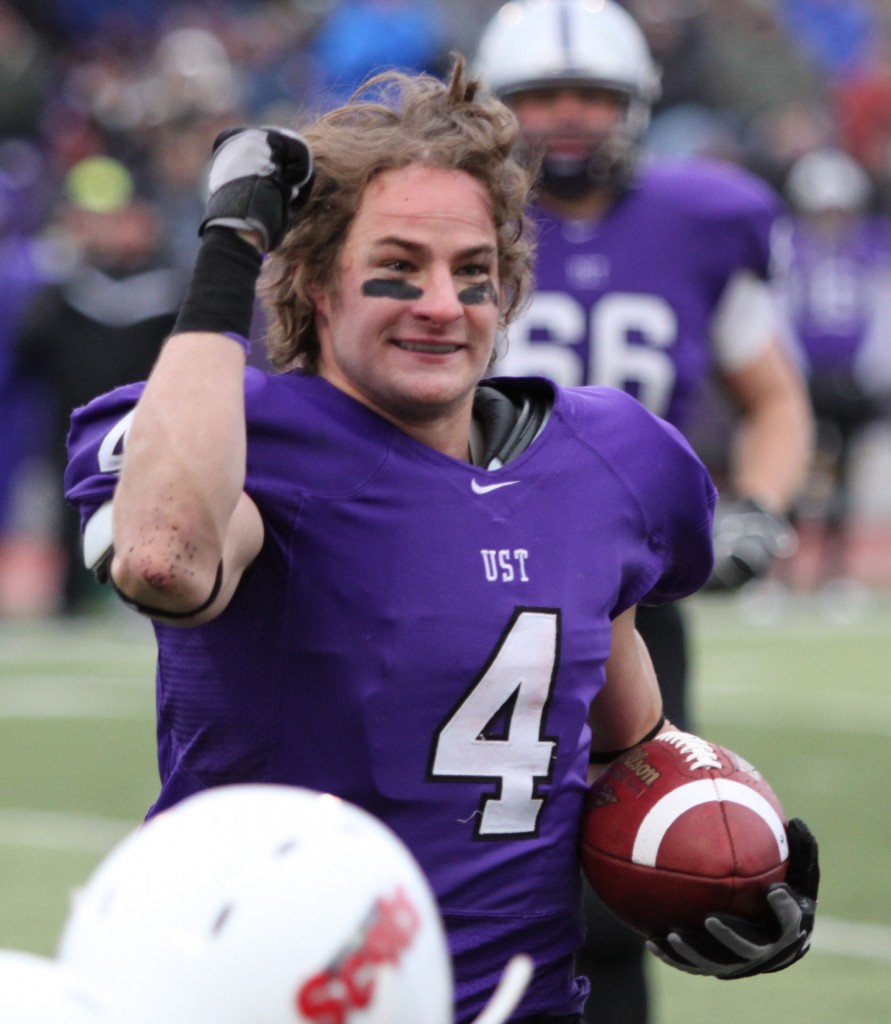 Former St. Thomas All-American wide receiver Fritz Waldvogel was one of the lucky seniors. With graduation approaching in May, Waldvogel already had a job lined up with Gallagher Benefits Services, but he recently turned it down to become a Unicorn in Germany.
No, not the mythical one-horned creature, but a Schwäbisch Hall Unicorn of the German Football League.
"I really never got to do the whole study abroad thing," Waldvogel said. "I get to play football for a little bit longer and see the world. It's going to be a great experience. I'm really excited."
The Unicorns are excited too, especially since the team is only permitted to sign up to two new American players each season, one for each side of the ball. After Waldvogel's St. Thomas career ended, calls from professional scouts, coaches and recruiters poured in. But ultimately Waldvogel, who's German, decided Schwäbisch Hall was the perfect fit.
"They fly you over there and pay for everything," Waldvogel said. "They give you a house, a car, and they pay for some of your meals. It's not a big expense on my part. They give you a good amount of stipend every month just if I want to travel and do that type of stuff."
Coach Glenn Caruso, who helped Waldvogel make his final decision, thought the opportunity for Fritz "to see a part of the world that very few people get a chance to see" while following his passion was too good to pass up.
"From what we understand, it's among one of the most well-coached teams over there in Europe, and we've gotten that from several different sources," Caruso said.
"It also has a really neat location. It's a smaller town, but it's about 40 minutes outside of Frankfurt. He'll have an opportunity to see several countries in his time off."
The location may be prime, but the level of competition Waldvogel will face next season is even better. Schwäbisch Hall is the defending GFL champions, after winning the German Bowl, the American equivalent to the Super Bowl, against the Kiel Baltic Hurricanes last season.
The GFL has a reputation as Europe's elite football league, and Caruso said that Waldvogel's signing proves that "if you're a good player, you will be seen and sought after by professional scouts."
"Fritz is among the elite in the nation when it comes to Division III athletes," Caruso said. "I think it validates the fact that some of the great athletes at this level are comparable to higher levels."
The Unicorns begin their season at the end of April, but Waldvogel still plans on graduating in May.
"I'll miss a couple games," Waldvogel said. "I'll fly out right after graduation and be there probably until the middle of October."
A few familiar faces will team up with Waldvogel in Germany. Quarterback Aaron Boehme and defensive tackle Paul Nishizaki both played on the Linfield College team that faced  St. Thomas in the 2009 and 2010 playoffs.
Boehme quarterbacked Schwäbisch Hall to a 16-0 season, the best in team history, and was named the German Bowl Most Valuable Player after completing 18-of-28 passes for 230 yards, three touchdowns and 93 rushing yards.
Waldvogel said he is looking forward to teaming up with Boehme and is excited to contribute right away.
"They're looking for me to do a lot of different things for them, whether it's at receiver or running back, returning kicks and that type of stuff," Waldvogel said. "They run a spread offense so it'll be a little different than St. Thomas, which ran more of the pro style approach. (There's) a lot more throwing."
Though Waldvogel, who has lived in the St. Paul area for the majority of his life, said the move to Germany will "definitely be an adjustment period," Caruso said that "whatever Fritz decides to set his mind to…he's going to be wildly successful at."
"It has little to do with the fact that he played here," Caruso said. "It has more to do with the type of person that Fritz is and how he was raised."
As for the job Waldvogel had lined up, he's confident that will work out in the end too.
"I'm meeting with the guy this week," Waldvogel said. "I have a pretty good feeling that he's just going to hold the job until I get back. I'm just really happy to not have to hang up the cleats quite yet."
Ryan Shaver can be reached at shav7005@stthomas.edu