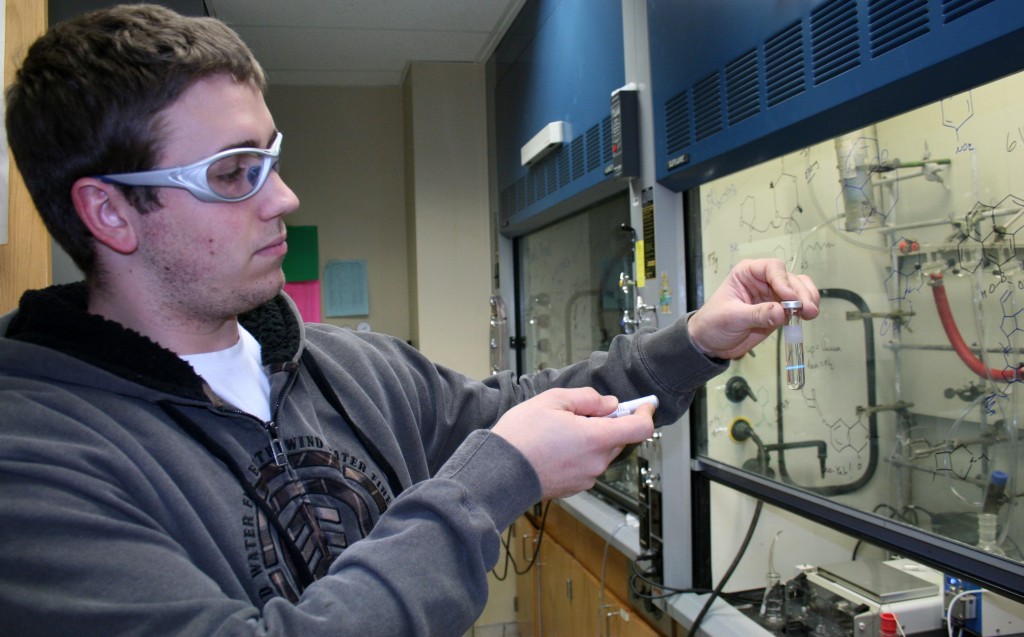 This is the fourth in a series of stories about ongoing projects in St. Thomas' science and engineering departments.
Junior chemistry major Nick Serratore works in one of the most dangerous places on campus: the chemistry lab.
With its highly combustible chemicals, such as chloroform, the lab houses many unique experiments, including Serratore's current project.
Serratore works with luminol derivatives, chemicals that are chemiluminescent, meaning they exhibit a bluish glow when mixed with the right chemical. Luminol is typically used at crime scenes to detect traces of blood.
He is attempting to improve the chemiluminescence of the luminol. It then can be used to more accurately study amino acids in the human body and measure amounts of vitamins, particularly vitamin D.
"If you have deficiencies of [vitamin D], you will have higher risks for diseases like cancer and multiple sclerosis and things like that," Serratore said.
Serratore has been working on the project for two years, beginning the summer after his freshman year. He has attended several conferences for his project and will present his research at the American Chemical Society Conference in Anaheim, Calif., this spring.
"I enjoy that I'm able to go and travel a lot with it," he said. "Lots of recognition for your work is very cool."
Maggie Clemensen can be reached at clem0427@stthomas.edu.