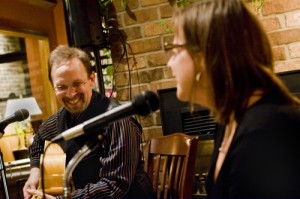 Have you ever wondered what your professors do on the weekends?
Well, while some were celebrating the semester's kickoff last Friday with a brew, English professors A.J. Scheiber and Liz Wilkinson entertained Coffee Bene's patrons with a few hours of music, camaraderie and fun.
Under the name Wilkinson James, Scheiber and Wilkinson played a handful of folk and country covers like Carleen Carter and Chip Taylor, as well as a healthy dose of original material written by the pair.
Scheiber, who handles guitar and vocals, brings a fun blues element to his playing. His solid folk strumming and his voice blends beautifully with Wilkinson's southern twang and calming bass lines.
Watching them perform, one can sit back and enjoy the music that flows simply from their fingers and lips. Between the music, laughs and literary references–they are English professors, after all–it is obvious that these two musicians were meant to share the stage.
The duo joined a year and a half ago when Wilkinson began teaching at St. Thomas, but both have had active music careers in the past.
Scheiber picked up a guitar in sixth grade "when the Beatles hit" and has been performing for more than 30 years as a solo act and with various blues, country and rock bands.
Wilkinson recently moved to the Twin Cities from North Carolina where her band, Second Story, played in and around Greensboro, N.C. She said her mother was the reason she began playing. As one of the South's famed Hill Sisters, Wilkinson's mother, Bobbie, used to teach her to sing before she went to sleep as a child.
"She taught me to sing in perfect pitch with her… it made me feel really important," she said.
Having recently released an album called "DEMOcracy," Wilkinson James has been making the rounds at several local coffee shops and hopes to play bigger venues soon.
"We would love to do some festivals and bigger venues, but we're mostly here to have fun," Scheiber said.
Aaron Hays can be reached at hays2206@stthomas.edu.