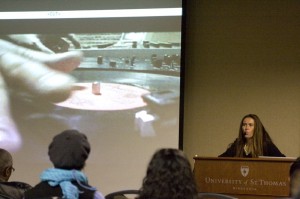 Latin hip-hop might not be where it is today without the work of people such as "hip-hop scholar" Melisa Riviere, who presented Thursday night in McNeely Hall.
Riviere said her goal as a "hip-hop scholar" is to make education more entertaining, and vice versa. She added that academia and hip-hop have never gotten along.
The University of Minnesota graduate teaches anthropology and global studies courses at Twin Cities universities with a focus on the global diffusion of hip-hop elements in Cuba in Puerto Rico. But her work goes beyond the classroom.
In more than 20 years of working within a music genre heavily dominated by African and African-American culture, she documents Spanish-speaking hip-hop conferences and festivals, leads workshops, and creates audio and video productions that are helpful to young artists.
Part of her presentation was focused on her work with a Cuban hip-hop group called Los Aldeanos. Riviere has been instrumental in encouraging and making it possible for young artists to express their vision of the world around them.
Aaron Hays can be reached at hays2206@stthomas.edu