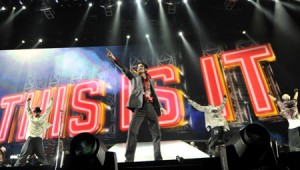 You would think a film chronicling the last performances of Michael Jackson, the "King of Pop," would have the grandeur and sophistication of royalty, but director Kenny Ortega turned "This Is It" into more of a courtyard jester than a documentary fit for a king.
AEG Live, the production company that distributed the film, estimated that "This Is It" could net $250 million in five days. But early predictions have the film grossing significantly less.
Some St. Thomas students, such as sophomore Eryn Evander, will not be contributing to the film's box-office sales.
"I think Michael Jackson is treated like he's some kind of god, and I don't think he is at all," Evander said. "So I like to not give him any attention."
The 112-minute documentary takes viewers inside rehearsals for Jackson's "This Is It" tour. The tour was set to kickoff this summer in London but came to a screeching halt following Jackson's death.
Much to your delight you'll hear plenty of hits ranging from "Thriller" to "Man in the Mirror." The movie also gives an in-depth look at how much preparation, precision and hard work are put into making Jackson's classics come alive on stage.
Freshman Dilbi Hussein said the music made the movie.
"I saw it last night and I thought it was amazing," Hussein said. "It was 10 bucks for a weeknight, but it was still worth it. It was like an actual concert in the movie theater."
Among the movie's amusing moments is when Jackson tries to explain to a choreographer how he'll just "feel" a visual cue on the screen behind him rather than taking the time to turn around because it will interrupt his "sparkling" time. Also entertaining is when we get a candid look at dancers practicing their groin grabs to perfectly mimic Jackson's iconic gesture.
"This Is It" also allows fans to piece together all the surprises Jackson had in store for them during his last tour. The film is laced with intricate video sequences that served as a backdrop for performances that help illustrate Jackson's most famous songs.
While the movie's tagline is "Like you've never seen him before," Ortega's film could be better described by saying "kind of like you've seen him before but with miniscule differences." Though movie-goers will get to see what Jackson is like while he prepares for a tour, they won't get to see any more of Jackson than before.
It's almost sad that in a behind-the-scenes look we still don't feel any sort of real connection to Jackson, other than the songs we cherish.
The feeling of being held at a distance is amplified by crew members who awkwardly call Jackson "sir" despite being roughly the same age and dancers who literally cry at the thought of performing with Jackson. It seems as if the dancers circle around to worship him during sound checks.
As hard as Jackson's death was on his fans it only seems fitting that a film chronicling some of his final days should let fans see a side of him that they've never seen. While listening to Jackson sing his hits to a nearly empty arena was haunting and beautiful in its own right, fans deserve more.
Jackson's songs will last forever and they will always be classics. "This Is It," while it tries to be in the same category, just came off as another seize-the-moment type movie that had dollar signs in mind rather than leaving fans with an iconic lasting image of the man who deservedly earned a reputation as the "King of Pop."
Ben Katzner can be reached at bekatzner@stthomas.edu
Brent Fischer and Cole Trace contributed to this story.