It's beginning to look like Christmas at St. Thomas, and it's even starting to sound like it. St. Thomas has hung Christmas lights on the trees on the quad, the nativity scene is already sitting on top of the arches and the campus is dusted with the first snowfall.

Local radio stations are starting to play Christmas music, and retail stores have set up  Christmas displays. But St. Thomas students have mixed feelings about the early Christmas spirit, especially on the radio.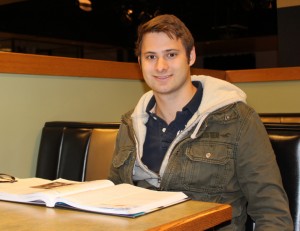 Senior Michael Zickert, a business law major, said he thinks Christmas music should wait until after Thanksgiving. By the end of the Christmas season, Zickert said he's ready for it all to be done.
"By the end, I'm definitely sick of hearing Christmas carols everywhere," he said.
Zickert said he has heard Christmas music on the radio and heard ABC Family will host a countdown to its 25 days of Christmas movie countdown.
Senior finance major Ali Davis said she listened to Christmas music on the bus Wednesday morning. She said she does not think it is too early to listen to Christmas music.
"I actually started listening to it two weeks ago," she said. She usually starts listening to Christmas music after Halloween.
Like Zickert, Davis is ready for Christmas music to be done when the season is over.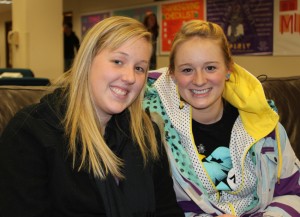 Junior human relations major Rachel Hartman said she first heard seasonal music when she went to Hallmark in August.
Junior engineering major Lexi Marthaler said, "I noticed people talking about it. You see lots of Facebook statuses like 'listening to Christmas music' right after the snow."
Hartman and Marthaler think Christmas music should start playing the day after Thanksgiving, but they said they do not get sick of the music by the end of the season.
"People might say they are sick of it," Marthaler said, "but it's Christmas."
Snow adds to the holiday feel
"With snow, I think makes it seem more like Christmas," Zickert said.
Davis said her favorite part of the Christmas season is "all the snow, Christmas cookies and Christmas lights, the Christmas atmosphere."
She said she loves the Christmas atmosphere on campus, "especially when they put the lights up and it's snowing."
Marthaler and Hartman agree that the snow does play a role in people listening to Christmas music.
"Before that we have fall. Now that we have the snow, it's Christmas time," Marthaler said. "Snow does play a huge factor. Like, even though it's Dec. 23, and we don't have snow, it doesn't feel like Christmas."
Some Christmas songs get overplayed
Zickert said his favorite Christmas song is "O Holy Night" partly because it is not played too much.
"I don't like it when popular groups try to put out Christmas stuff, like popular recording artists," Zickert said.
Davis said she gets sick of hearing Mariah Carey's "All I want for Christmas" playing on the radio.
"It's always on," she said. "I swear, every time I turn on my car, it's always on." Her favorite song is "Carol of the Bells."
Hartman said her favorite Christmas song is Elvis' "Blue Christmas." Marthaler said her favorite is "Let it Snow."
Both Marthaler and Hartman agreed that "Jingle Bell Rock" is overplayed, especially in movies.
"It's the standard Christmas movie song, I feel like," Marthaler said.
Maggie Clemensen contributed to this report.
Theresa Malloy can be reached at mall5754@stthomas.edu.