For decades, superhero tales have been near and dear to peoples' hearts. Something about the premise of an ordinary Joe getting thrown into an extraordinary situation has rarely failed to pump adrenaline or tug at heart strings.
St. Thomas 2008 graduate Malik Watkins is inadvertently cementing his own legacy, adding a modern-day twist to the traditional superhero paradigm by living his own kind of dual life: business analyst for an insurance company by day, budding rap star by night.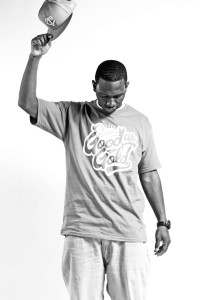 With his latest album in the running for best album in the 4th Annual TC Hip-Hop Awards, Watkins is doing pretty well at his night job.
Birth of Mally
"Malik is a living testimony… that any person can have multiple goals in life," said Lawrence Potter, executive director of institutional diversity. "[He is] truly a remarkable example of a man defying the odds by marching to the beat of his own drum."
As a child, Watkins always knew that he was into music. His home was immersed in sounds from a wide variety of musical genres on a daily basis thanks to his family, but he never really thought much of it.
"Music was always around me," Watkins said. "Music is something that I'm passionate about."
Potter saw that passion.
"Malik is an old soul because he was able to develop his love for diverse genres growing up," Potter said. "I found that he enjoyed a lot of the different music genres that I love and appreciate."
He wrote his first piece of poetry when he was 9 but didn't start to take music seriously until his high school years. That's when Watkins began making journal entries and spitting some of his own rhymes.
Watkins spent years trying to hone his craft and learn from artists who had come before him. But in 2007, he met other St. Thomas students trying to grasp their own musical destiny and this motivated Watkins to start recording his music. Mild-mannered Malik Watkins turned into lyrical savior and punisher of beats, Mally.
Day and Night
But becoming a rapper isn't as easy as it seems. Not everyone makes it big right away and while it was a risk Watkins was willing to take, he also knew that he needed a day job so he could support his other career and himself. So on weekdays from 7:30 a.m. until 5 p.m., Watkins earns a living as a business analyst for an insurance company. He makes sure to keep his day job and moonlighting gig separate.
"I'm not at work downloading and listening to music," Watkins said. "I don't talk about it at work [because] I'm not there to talk about my music, I'm there to work."
After a long day, Watkins fills his "free time" after work with writing, rapping and recording.
Watkins usually spends weekends away from work, scheduling shows and recording sessions. This is a daunting schedule, but Watkins said he feels it is necessary because he knows success isn't promised to anybody. It's that mindset and work ethic that other St. Thomas students-turned-artists have adopted in hopes of finding musical success.
"If you want to make it in the music industry, you have to devote so much time and effort into things such as writing, recording, promoting your music and getting it out there," said St. Thomas sophomore and aspiring singer and song writer Darrin Hall. "It's very hard … to do both but you can't pick and choose I feel because nothing is promised from either side."
Mixing education and hip-hop

Watkins' first album was released in May 2007 and was a showcase for his creative and honest style of rhyming. Critics considered it a successful debut effort and Watkins said it was an announcement that there was a new force to be reckoned with in the music game. The biggest problem Watkins faced was the stereotype that well-educated people and hip-hop just don't mix.
"That kind of view to me is so close-minded," Watkins said. "Hip-hop is supposed to be for open-ended expression for who you are."
Watkins combats the often twisted view of popular culture by continuing to release albums (2008's "The Moment," and "The Passion" in 2009) and amassing an army of like-minded listeners (772 fans on Facebook and more than 3,000 friends on MySpace). Many of Watkins' followers became fans of not just his music, but also of Watkins himself during his four years at St. Thomas. He's quick to credit friends and faculty from the St. Thomas community for helping him get where he is today.
For Potter, seeing Watkins work towards success is thanks enough.
"Malik has defied all the pervasive stereotypes that have been projected onto young black men from single parent households," Potter said. "He graduated with a bachelor's degree with high marks, has plans to pursue an advanced degree, and finds the time to write, produce, and perform his music."
Up, Up and Away?
Watkins is currently unsigned and anything that's out on the market is Watkins' own product. He's lined up the studio times, sought after the producers and reached out to anyone willing to listen in hopes of someday realizing his dream.
His effort hasn't gone unnoticed.
In addition to being in the running for best album at the TC Hip-Hop Awards, his recent album, "The Passion," can be found on iTunes and was named underground LP of 2009 by bgdboom.com.
While Watkins has no idea when or even if his musical aspirations will truly take flight, he doesn't seem to mind living a double life right now, as it allows him to show people who he really is. Mally is Watkins at his most honest time. Mally is a representation of what too much of hip-hop today is missing: reality. A concept that Watkins said he hopes Mally fans will appreciate.
"A lot of people don't want to be themselves … I feel like I have a lot of genuine music," he said. "It's me reaching out to these people."
Ben Katzner can be reached at bekatzner@stthomas.edu