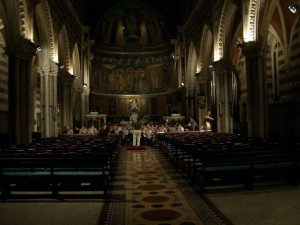 After spending 11 days and performing five concerts in Italy during J-Term, students in the St. Thomas wind ensemble returned to the United States on Jan. 27.
"All of it was amazing, but perhaps the most salient moment was being greeted by the Villafrati band in a small town in Sicily," said Matthew George, ensemble director.
Beginning in Rome, the trip continued to the island of Sicily via ferryboat from Naples and ended in Venice.
Junior percussionist Jon Dostal said his favorite part was when the band arrived at the small town of Villafrati on the island of Sicily to a surprise before their scheduled joint concert with a local group.
"As we got off the bus, they were playing 'Stars and Stripes Forever,' which was really sweet," Dostal said, adding that the group was treated to dinner at a local farm that evening. "They treated us like royalty basically… The whole night was just an awesome experience."
But connecting with people was not the only highlight. George said he was fond of the musical strides his group made.
"The interchange between our musicians and theirs was lifetime memory-making," he said.
Performing in front of a foreign audience was much different than the Twin Cities, Dostal said.
"I feel like we had to work our way to impress people because you don't have your parents in the audience," Dostal said. "The concerts back here, there's not a [big audience] and if there is, they just love music so they don't care what they hear. We had to raise the bar to the best of our ability to total strangers."
And according to George, his group did just that.
"I think all [the performances] were unique," he said. "I think each performance touched audiences in different ways, but all were incredibly responsive."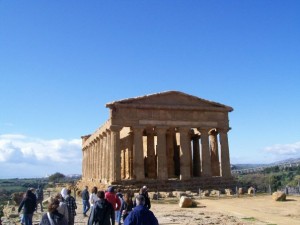 Dostal said he was pleasantly surprised by the positive experience of interacting with people from outside the United States.
"People over there are just a lot more receptive," he said of the Italians. "You'd think they'd see us as kind of stuck-up maybe, but we didn't get that at all. They were just really nice."
Even over the Atlantic Ocean, the Minnesota Vikings had their place in the trip. And contrary to a rumor that George paid a bar to stay open in order to catch the game at odd hours of the night, the director insisted that desperate times did not call for desperate measures.
"Rumor and innuendo," he said. "It is true the hotel was kind to open a room to us, but no pay-offs took place. It didn't matter anyway, the Vikes lost."
In the end, George said the trip was more than just visiting another country.
"By performing rather than just visiting Italy, we were able to serve the culture instead of just observing it," he said.
Patrick Stumpf can be reached at stum3488@stthomas.edu