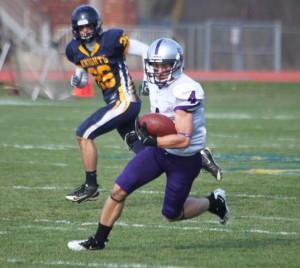 Senior wide receiver Fritz Waldvogel broke St. Thomas' career records for receptions, receiving yards, receiving touchdowns and all-purpose yards this year, but he doesn't seem to care. 
"It's really more about the team," Waldvogel told me when I asked him about his latest record after the St. Norbert's game. He used the same line after the St. Olaf, St. John's and Hamline games too. But senior linebacker Tony Danna jokes that he can't get Fritz to shut up about his accomplishments.
"He's great with handling it all in the news, but when it's just me and him one-on-one, I hear all about his accomplishments," Danna said. "I always tell him he's pumping his own tires."
With 273 receptions, 3,916 receiving yards and 41 touchdowns in his career at St. Thomas, the 5-foot-9-inch Waldvogel has big tires for a small man.
"Little kid" plays like a man
Dave Ziebarth, Waldvogel's high school football coach at St. Thomas Academy, said Fritz looked like a "little kid" when he took the field before games.
"He would skip and hop down like a little kid," Ziebarth said. "I always thought it was funny, because once he got on the field he played like a man."
[slidepress gallery='111116_waldvogel']
Waldvogel first showed up to his first varsity practice as a 105-pound freshman whose dad felt he was a better fit for cross country. By his senior year, he was an All-State return man who helped the Cadets to the state championship.
Ziebarth attributes the growth to Waldvogel's unmatched work ethic.
"I've been teaching and coaching for 34 years, and in my time he is the single most competitive athlete I've ever been around," Ziebarth said. "He just plays with so much fire, and he brings that in everything he does."
After scoring 13 touchdowns his senior year at St. Thomas Academy, Waldvogel wanted to take his talents to Dartmouth to play with fellow Cadets Tim McManus and Foley Schmidt, but "it just wasn't in the cards," he said.
"I took the ACT five times because I needed a 27 to go out there. I just got a 26 the last three times," Waldvogel said. "When you go to so many tutoring (sessions) and you take it that many times, it gets really frustrating."
Missing out on Dartmouth "was probably one of the best things that could have happened to me," Waldvogel said. "Just to end up here with coach (Glenn) Caruso."
Caruso, Walch and Waldvogel a perfect fit
In 2008, in their first years as coaches at St. Thomas, Glenn Caruso and Travis Walch knew that undersized players could make an impact at the college level. At 5-foot-9 Caruso was a starting offensive lineman at Ithaca College and Walch, at 5-foot-7, was an All-American running back at Winona State.
"(Caruso and I) were never the biggest or strongest ourselves," Walch said. "It makes it easier to look at all the little things that make a player special other than size and speed."
Waldvogel is a big reason why Caruso and his staff's debut recruiting class has become something special for St. Thomas. The Tommies are 40-6 overall since signing Fritz, and they became the first team in MIAC history to post back-to-back 10-0 regular season records.
"Caruso didn't care what Fritz's size was maybe because Caruso is a little guy himself," Ziebarth said. "There are a lot of similarities in their personalities."
Ziebarth said when Fritz was a college sophomore, a Dartmouth coach came and asked him how he was playing.
"Oh, you mean the guy you didn't want?" Ziebarth said. "He is a little All-American and the most valuable player in the conference. You blew him off. Think about what he could be doing for you guys."
Football, finance or both?
Danna said of all Fritz's accomplishments, he might brag most about having a job lined up after graduation. Waldvogel, a finance major, balanced football workouts with a summer internship that turned into a full-time offer.
"He had to wake up at about five in the morning just so he could workout," Margarit said. "That shows how driven he is that he wants to get up when it's still dark out, and everyone is still sleeping to get his workouts in."
Waldvogel has been able to juggle a finance job with football, but after his May graduation, he will have to choose. Walch, who has a brother coaching in the Canadian Football League, said "there is certainly a place for a guy like Fritz at the next level."
Alex Keil can be reached at amkeil@stthomas.edu