Guard John Nance led the No. 5 St. Thomas men's basketball team with 15 points, as the Tommies used a 22-0 first half lead to roll past Concordia-Moorhead Monday 94-63 at home.
The Tommies (6-0, 3-0) shot 58 percent from the field and had 49 bench points. St. Thomas also had a 38-25 rebounding edge over the Cobbers (3-4, 1-2).
The Tommies started out hot, making their first six shots to go ahead 16-0. Guard Erik Tengwall contributed seven of the early 16 points.
Coach John Tauer knew his team had a great mentality, but said he didn't expect this kind of scoring burst from his players.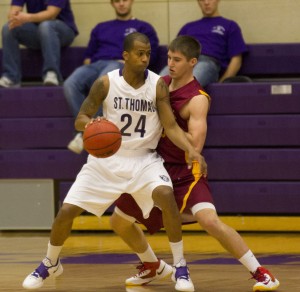 "We came out really focused and our veterans played with a lot of energy," Tauer said.
Forward Connor Nord, who tallied 14 points and grabbed five boards, said the team played great.
"That's the plan every game: to come out and score," Nord said. "But we never expected 22."
Nance, who played a crucial role on offense and defense in the first half, also said he didn't expect the team team to score 22 points in a row.
"I didn't see the 22-0 run coming but we said at the beginning of the game, we wanted to get off to a fast start, get out ahead and kill any will that they had," Nance said.
The Cobbers answered back later in the half, scoring eight straight points, but Nance was able to finish off the half with a mid-range jumper that put his team up 52-28 at half. St. Thomas finished the half on a 17-4 run after Concordia-Moorhead drew as close as 13 points in the first half.
As the reserves came in the game during the second half, Nance continued his strong evening, scoring six more points. Nance said his offensive style affected him the most this game.
"I was a lot more aggressive today. Lately I have been passing up some shots," Nance said. "I was trying to be aggressive, get to the bucket, shoot a couple free throws, that really got my game going."
Although the Tommies had a strong first half, Tauer said his team's defense was not spectacular.
"Our defense the first seven minutes was unbelievable," Tauer said. "To give up sixty four points in 33 minutes in not tremendous."
The Tommies finished with 12 turnovers.
Nord said he thought it was an all-around great team effort.
"It felt good, a lot of ball movement on the team and we played good (defense)," Nord said.
The Tommies travel to Winona, Minn., Wednesday to take on St. Mary's (0-5, 0-2).
Jesse Krull can be reached at krul7386@stthomas.edu.