When the Metrodome's roof plummeted in December, so did the St. Thomas baseball team's chances of playing under it.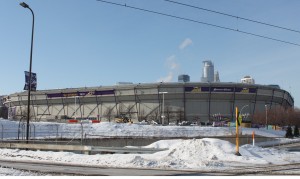 The Tommies had to cancel — and reschedule — four early-season games originally scheduled at the Metrodome when officials announced last Wednesday that fixing the snow-damaged roof couldn't be completed until at least March. The Tommies usually play early-season games in the Metrodome every season, a luxury they enjoy because they are playing baseball "while there's snow on the ground," interim coach Chris Olean said.
Two games on March 3 against UW-Lacrosse and two more on March 10 against UW-Whitewater were cancelled.
"It is a big deal," Olean said. "Your season goes from being already condensed to more condensed."
To make up those four games, the Tommies will take a weekend trip March 5-6 to Washington University in St. Louis to take on The College of St. Scholastica and Washington University.
The team also extended its Florida trip an extra day over spring break to make up two more games. The Tommies will play 13 games in eight days while in Florida.
"That Florida trip is going to be pretty intense," Olean said. "What it really affects is with our pitching staff."
The Tommies would like to start their No.1 pitcher, senior Kris Edwards, as many times as possible during that stretch, but because the team is squeezing in more games than usual, Edwards won't start as many games as the team would like.
"When we go down to Florida, I'll probably get only two starts out of him (Edwards)," Olean said. "You just don't match up as well. You want to be able to throw that guy more often."
The team will play the majority of its conference schedule — 20 games — in about a seven-week span. But there is an advantage to the tight schedule, Olean said.
"It's going to give us a chance to see some guys that maybe wouldn't have gotten to play that early," Olean said. "Worst-case scenario, we drop a few more games than we would have, but I'll know a lot more about my team sooner.
NCAA rules allow the Tommies to schedule 40 varsity games outside the postseason. The Tommies are currently at 39 after rescheduling.
"As a coach, you want to play all 40," Olean said. "That's part of being a good team."
But there may be a chance the Tommies will play in the Metrodome this season. A March 31 game against St. Scholastica, originally scheduled to be played in the Metrodome, will be determined based on whether the roof is fixed. If it's not repaired by then, the Tommies will try to play that game at home.
The St. Thomas baseball season starts Feb. 1. The team was ranked No. 13 this preseason by Collegiate Baseball News.
Miles Trump can be reached at mttaylorjohn@stthomas.edu.