Football coach Glenn Caruso was voted the 2010 Liberty Mutual Coach of the Year for the NCAA Division III Monday.
Caruso accepted the award in Phoenix, while about 50 people gathered in the Anderson Athletic and Recreation Complex to watch and celebrate back home.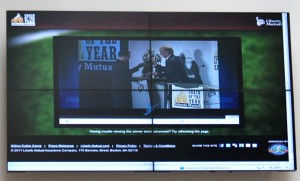 Caruso thanked St. Thomas and said the "village" of coaches, staff, administration and fans helped the program grow stronger.
"The players I coach are pretty amazing young athletes, and they decided to focus on the 'we' instead of the 'me.' And I'm very thankful for that," he said.
Sophomore tight end Logan Marks said, "it's super exciting. … It seems like players reap the most benefits."
Marks said the award went to the right person, and he added that he voted about 10 times for Caruso. He said Caruso is a great coach.
"He keeps things fresh and new at practice," Marks said. "He really instills why we love football as football players."
Jane Canney, vice president of student affairs, said, "This means we have a full community who respects our outstanding coach who has worked with the students to create an outstanding football program."
"I'm just so thrilled that the community could come forward like this and become so supportive of this great program and great coach," she added.
She said they knew Caruso had "excellent competition," but they still hoped he would win.
Caruso is the youngest coach to win this award. Bethel University coach Steve Johnson was among the other five finalists.
Liberty Mutual will donate $50,000 to the Yale-New Haven Cancer Center and "Bucky's Pride," a local charity Caruso and his wife created. Caruso was diagnosed with an illness at the age of five and was treated at the Yale New-Haven Cancer Center.
The St. Thomas Alumni Association will also receive $20,000.
Robert Kolnik, a member of the Alumni Board of Directors, said "Glenn is a great guy. … He's a great asset to the university. I'm so, so happy for him."
Kolnik said this award "helps put us on the map, not only as a sports power, but as a legitimate academic school."
Theresa Malloy can be reached at mall5754@stthomas.edu.