The class of 2015 is likely to be smaller than the record-breaking 2014 freshman class, according to Kris Roach, St. Thomas' director of admissions and financial aid.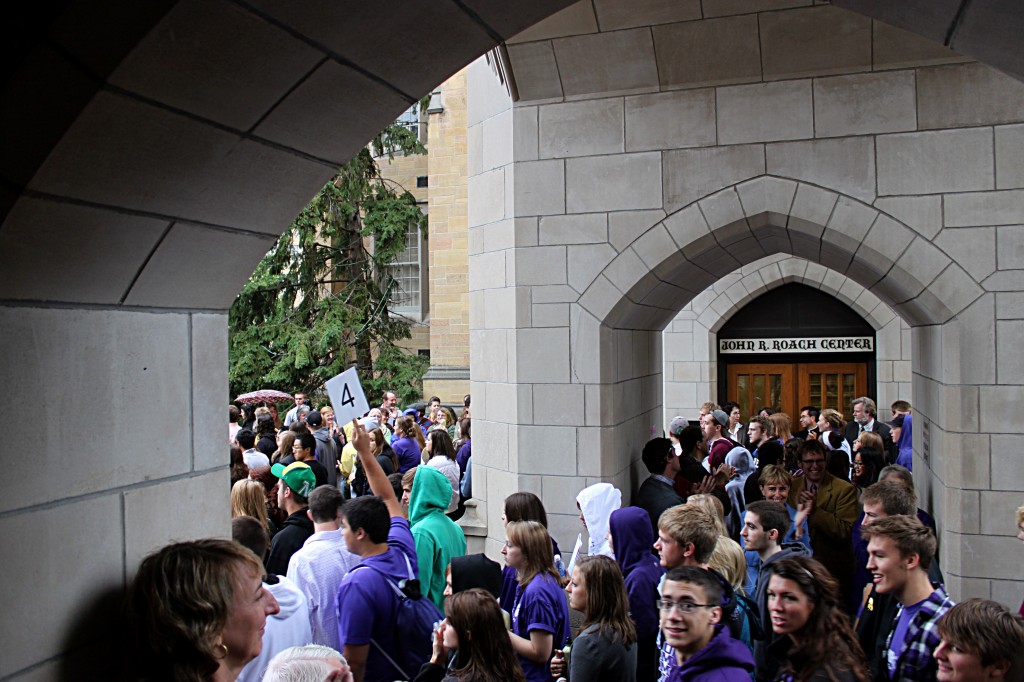 Roach said 1,330 first-year students are currently planning to attend St. Thomas this fall, although she said this number can change throughout the summer. In early May of last year, 1,493 students had made deposits, which confirm their intention to enroll at St. Thomas, and this number grew to 1,521 first-year students by the fall.
"We are still accepting applications and admitting students," Roach said. "Our goal is 1,350."
The current total for the 2015 class includes nine first-year international students. Roach added that 80 percent of the new students committed to enroll are from Minnesota and 49 percent of the new students are male. She also said approximately 11.4 percent of the incoming first-years are students of color, which is comparable to last year's class. Students of color made up 11 percent of the class.
Of the 5,697 students who applied to St. Thomas for the 2011-2012 academic year, 4,373 were admitted, Roach said. This 76.8 percent acceptance rate is almost identical to last year's 77 percent acceptance rate.
"This is a very strong class, with an average ACT and GPA at the top or close to the top of recent history," Roach said.
The incoming class currently has an average ACT score of 25.69, compared to last year's 25.49 average, and an average GPA of 3.57, which also is higher than last year's 3.54 average. However, last year there were five National Merit scholars who enrolled at St. Thomas, but Roach said none have enrolled yet in this year's class.
Last year St. Thomas accommodated the class of 2014's record-breaking size by hiring 27 new full-time professors. The university also added 29 lecture sessions and seven lab sessions. Residence Life added the Brady Satellite temporary housing facility as well as temporary living arrangements for freshmen inside the student lounges. Dining Services also expanded service lines on weekends and hired additional student workers.
"I cannot say if St. Thomas will need to make adjustments to housing and faculty staffing levels [for the class of 2015]," Roach said. "Given that we accommodated last year's very large class, I would assume everything is in place to accommodate this class, a class size that is more in line with our traditional goals."
Roach said there were no significant changes to the admissions process for the class of 2015.
"We have very complex and detailed recruitment strategies in place," Roach said. "We are constantly in the process of reviewing these strategies and refining them."
Freshman Mary Peterson said she hopes the new freshman class will continue St. Thomas' history of community involvement.
"I wish I had done VIA or participated in a volunteer club," Peterson said. "Obviously it would be good if they participated [in clubs, organizations and volunteering] … and take what other classes have started and expand it and take it further."
Freshman orientation begins in July and freshman move-in day is Saturday, Sept. 3.
Rachel Britton can be reached at brit7192@stthomas.edu.