The recent turmoil in Egypt has had a personal impact on some members of the St. Thomas community, including international student Nermeen Salem from Alexandria, Egypt, who has family members still living in Egypt.
Salem has been able to communicate with her family by phone but not by Internet because it has been blocked by the government.
"There are a lot of things I am concerned about with the situation in Egypt, but the safety of the people there is definitely the biggest," Salem said.
The U.S. State Department has evacuated more than 1,200 Americans from Egypt on government-chartered planes and expects to fly out about 1,400 more in coming days. The Cairo international airport was a scene of chaos and confusion as thousands of foreigners sought to flee the unrest, and countries around the world scrambled to send in planes.
The last phone call Salem had with her brothers was yesterday, and she heard gunshots in the background. She asked about the gunshots, and she said she learned her brothers had shot a cop because he was aiming at them.
"It is weird because you're supposed to respect cops, but people in Egypt have always hated the police," she said.
Salem said her impression of the Egyptian army is positive because the soldiers do not shoot citizens or place their loyalties with the government. She has a different perception of the Egyptian police, however.
"Criminals aren't normal criminals," she said. "They make a pact with the police and work for them after they are arrested. They do the things police shouldn't be seen doing. They do the bad stuff to make the police look good. It creates a lot of chaos in Egypt."
The police, which before the revolt could be seen on nearly every corner, melted away Friday, giving way to looting and arson. Gangs of thugs have cleared out supermarkets, shopping malls and stores, as well as luxury homes and apartments in affluent residential areas in the suburbs.
On Monday, police began redeploying in many neighborhoods.
St. Thomas student Samali Mutazindwa is worried about her friend Yasmeen Sherif, who has returned to Egypt after studying at St. Thomas last semester.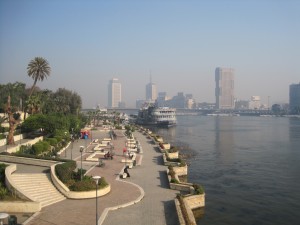 "I've been trying to get a hold of her since Friday (Jan. 28)," Mutazindwa said. "I haven't seen her on Facebook for the past week, but I'm hoping for the best."
St. Thomas biology professor Tony Lewno was recently visiting the American University in Cairo to explore future opportunities for biology students wishing to study there.
Lewno arrived about the time of the Tunisian uprising and left before the Tuesday uprising in Cairo.
"I was there such a short time but things seemed perfectly fine," Lewno said. "There was no sense of turmoil. I did get a sense of frustration when people brought things up with me, mainly in passing, that they were ready for change politically and they would like to see a change in leadership."
Opposition groups called for a million people to take to Cairo's streets Tuesday to demand Mubarak's removal. In an apparent attempt to defuse the week-long political upheaval, Mubarak named a new government Monday, but the appointments were treated with scorn by demonstrators.
Beginning less than two weeks after Tunisian protesters ousted their longtime president, the Egyptian unrest has had the U.S. in a bind since its start. The U.S. has spent billions establishing Egypt as a bulwark of American influence in the Middle East, and the government's collapse could threaten efforts from an Israeli-Palestinian peace deal to counter-terrorism operations and pressure on Iran.
The official death toll from the crisis stands at 97, with thousands injured, but reports from witnesses across the country are indicating that the actual toll is far higher.
Tarkor Zehn, Maggie Clemensen, Ashley Stewart, Katie Lescarbeau and Drew Landon contributed to this story.
Kelsey Broadwell can be reached at broa3324@stthomas.edu.