[slidepress gallery='footballplayoff-111509′]
Video by Cole Trace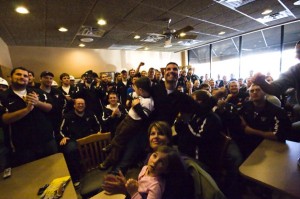 The Tommies are in.
ESPN News announced at 2:13 p.m. that the St. Thomas football team will face Monmouth College in the first round of the NCAA Division III playoffs. The game will be played at noon Nov. 21, at Monmouth, Ill.
The back room at Davanni's on Cleveland Avenue was packed with more than 100 players and fans and a roar of shouts rocked the restaurant when St. Thomas' name appeared on the screen. No one in the room was more proud than coach Glen Caruso.
"These guys earned what they got," he said. "You have to really give credit to the players and how they decided to come together."
St. Thomas will square off with a Monmouth team that finished the season with a perfect 10-0 record and is ranked No. 8 in the country. The Fighting Scots are making a second-straight playoff appearance after Monmouth won the Midwest Conference last weekend.
The Tommies are ranked No. 10 in the country as St. Thomas enters the playoffs for the first time since 1990. For senior center Josh Ostrue, the wait for a chance to play on the national stage is long overdue.
"It's great to get this recognition and show that all our hard work has paid off," Ostrue said. "Everything we've worked for has finally started to come together. I'm excited for everybody…we've given ourselves a name finally."
To reach this point, St. Thomas has boasted the biggest turnaround in the country, going from 2-8 in 2007 to 9-1 this year. Junior Ben Wartman said the biggest change over that time has been the mindset of the program.
"Really, the dynamic of the whole program [has changed]," Wartman said. "All our guys coming together are finally buying into that team concept."
So on Nov. 21, the football program will do something it hasn't done in 19 seasons – play in the postseason.
Jordan Osterman can be reached at jrosterman@stthomas.edu