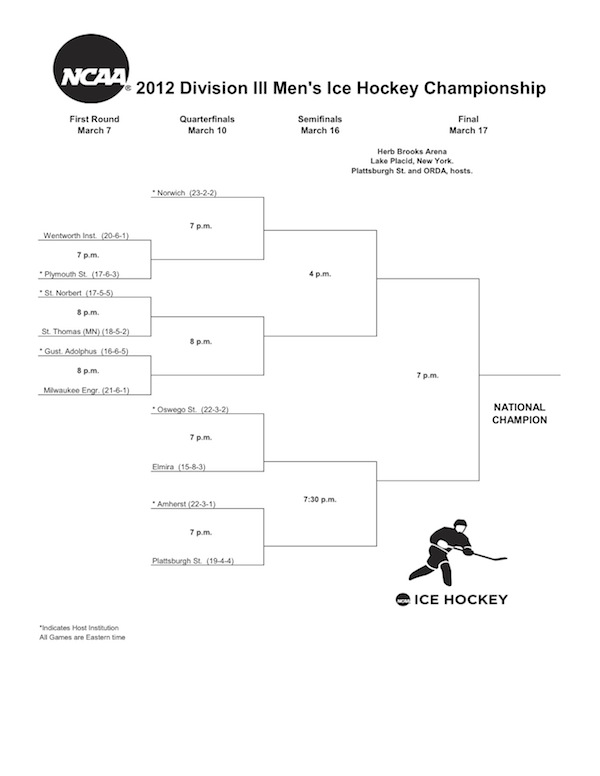 A NCAA national championship is still within reach of the St. Thomas men's hockey team after receiving an at-large bid to play in Pool C of the 2012 Division III playoffs.
Any chances of playing for the national title seemed to end when the Tommies lost to St. Olaf 4-3 in the conference playoff semifinals in late February. However, now the Tommies will travel to De Pere, Wisconsin to take on the No. 1 seed in the Western division, St. Norbert College (17-5-5), on Wednesday, March 7 at 7 p.m.
Senior captain Chris Hickey said the team watched Sunday's NCAA selection show in the locker room.
"We were all kind of shocked … We watched the selection show and found out we were one of the few teams that got the at-large bid," Hickey said. "We were shocked and ecstatic all at the same time."
This is the 15th NCAA playoff appearance for Tommie men's hockey and seventh in the last 13 seasons. St. Thomas finished second nationally in 2000 and 2005 and lost in the quarterfinals in overtime in 2008.
Although the team has new life, it will not be an easy task to win on the home ice of the defending national champions, St. Norbert.
"We have the utmost respect for St. Norbert. They're good, but were going to go in with the idea that we aren't going to take a back seat. We're just gonna play our game and play hard," coach Jeff Boeser said.
"We just need to stick to the game plan that we have had all year, work hard and keep the game simple," senior defenseman Nick Gorski said. "We can't let anything around us affect the way we play."
The team never gave up hope for a NCAA bid and continued practicing after the conference playoff loss.
"I think it will help us actually, just because people were pretty upset about how it ended with Olaf; and we all really wanted a second chance at it and actually got it," junior forward and leading scorer Riley Horgan said. "It makes us a lot stronger as a team and will make everyone work that much harder."
Boeser said hard work is the key to beating the defending national champions.
"Our kids are very excited, and they are very humbled, and they're hungry."
The winner plays Saturday in the national quarterfinals against the winner of Wednesday's game between Gustavus Adolphus College and the Milwaukee School of Engineering.
Hannah Anderson contributed to this story.
Jake Swansson can be reached at swan7230@stthomas.edu.