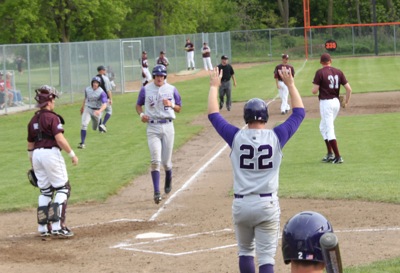 Hot hitting continued into Sunday afternoon for the St. Thomas baseball team as the Tommies defeated Augsburg 19-9 and won the MIAC championship.
With the win, the Tommies get the automatic bid to defend its title in the NCAA Division III playoffs, which start Wednesday.
This is the eighth time in the last 11 seasons the Tommies have won the MIAC title. This is the first season the Tommies had to win four elimination games to win the championship.
Led by junior Brady Field who reached base all six times he came to the plate, the Tommies collected 20 hits. Roy Larson also pitched in with a two-run homer.
"Any time you can get on base is good," Field said. "It gives us a real chance to score runs and build a lead."
The game went back and forth early with the Auggies getting the early 2-0 lead, but then the Tommies took the lead the very next inning 4-2, with some help from the Auggies' two errors. The Tommies eventually took the lead for good with Larson's homer making the score 7-5.
"I knew we had been able to score some runs," Larson said. "We just wanted to keep the peddle to the metal."
"Our hitting was a lot better, we got a lot of energy from our bench," he said. "It's contagious. When one guy gets a hit, the next guy gets one and that mounts up."
Field talked about the team going into the Division III playoffs.
"We're feeling great," Field said. "We won three tough games in a row. The team really got into it and the bats came to life."
The Tommies will learn its seed in the national playoffs Monday morning.
Brian Woitte can be reached at bmwoitte@stthomas.edu