[slidepress gallery='footballnorthwesternvideo-111409′]
Video by Brian Woitte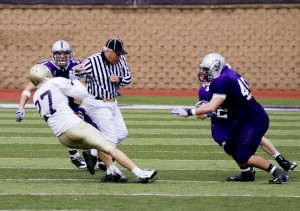 With an NCAA playoff appearance on the line, St. Thomas (9-1) had its way with Northwestern College in every aspect of the game on the way to a 63-14 rout Saturday afternoon in O'Shaughnessy Stadium.
On senior day, it was junior running back Ben Wartman who led the Tommie offense that racked up 477 total yards. St. Thomas tied a season-high and modern-day school scoring record. Wartman finished the game with 158 rushing yards and had touchdown runs of 37 and 55 yards.
"For the program it's probably one of the bigger games we've had to play," junior Matt Joshi said. "All the motivation we needed is that with one win we could be going to the playoffs."
Sophomore Fritz Waldvogel had a monster special teams day with a 50-yard punt return and 84-yard kickoff return for touchdowns. He added 69 receiving yards, highlighted by a 62-yard strike to the 1-yard line on St. Thomas' first offensive play of the game.
"[We] saw a matchup we thought we could take advantage of early," coach Glenn Caruso said. "We thought instead of waiting into the middle of the first drive, let's take advantage while we have all that vertical field. And it seemed to hit."
Sophomore Colin Tobin took over the rushing workload in the second half and ran for 92 total yards, giving starter Wartman some deserved rest. Tobin reached the end zone on a 3-yard run and an 8-yard reception.
Freshman Joe Novitski also tallied three short-yardage touchdown runs to get in on the Tommie scoring buffet.
Northwestern's senior wide receiver Kyle Thomforde was the lone bright spot for an Eagle offense that struggled to put up points against a swarming Tommie defense. Thomforde finished the game with 135 receiving yards and a fantastic 46-yard touchdown catch in the second quarter.
Defense dominates
St. Thomas tallied five sacks and nine tackles for loss. Junior linebacker Tommy Becker had five tackles, one sack and a partially blocked punt to lead the defensive unit.
St. Thomas took a 42-7 lead into halftime and was able to sprinkle in reserve players throughout the third and fourth quarters and coast to a 49-point win. Junior Matt Joshi took over for sophomore Dakota Tracy at quarterback in the second half and led a ball controlling offense with a goal of running out the clock and preserving the Tommie lead.
Two of Novitski's touchdown runs came in the second half, erasing any doubt the Eagles could make a late run at the Tommies. The win brings St. Thomas' record on the season to 9-1, making the 2009 squad the first Tommie football team with nine wins since 1983.
St. Thomas' focus now turns to Sunday afternoon when the team finds out if it will be selected to the 32-team NCAA playoff tournament, which starts next Saturday. If selected, the Tommies will be the first St. Thomas team to make the tournament since 1990.
When asked if the team had any ideas who might be St. Thomas' first round opponent if the team makes the 32-team field, Joshi said no one was sure yet, but assured it wouldn't make any difference to the Tommies.
"Whoever we get, we'll be ready," he said.
Jordan Osterman can be reached at jrosterman@stthomas.edu