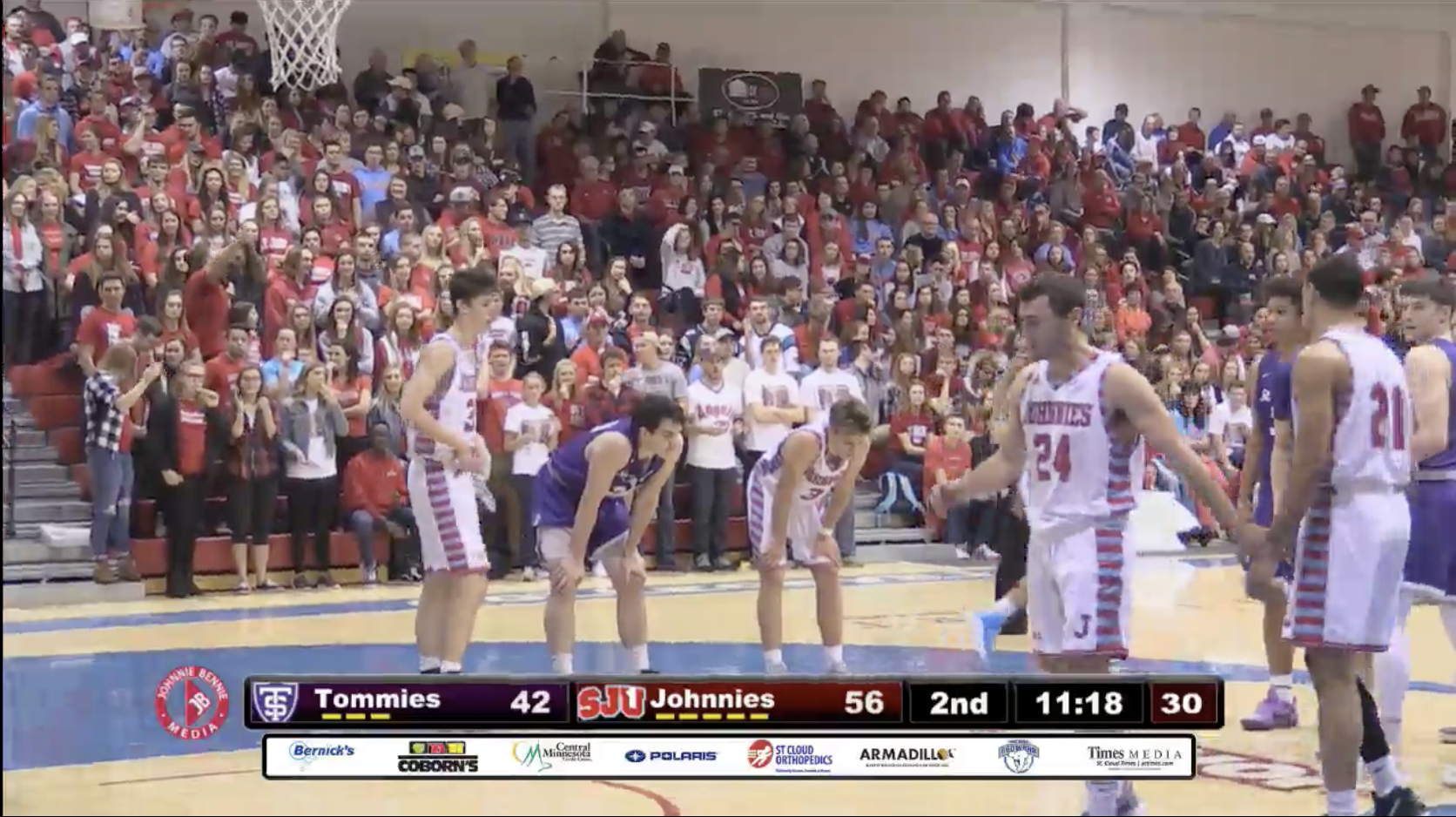 COLLEGEVILLE, Minn. – The three-game winning streak of the St. Thomas men's basketball team ended at the hands of rival St. John's, in large part to the play of Johnnie guard David Stockman and post-player Tyler Weiss, in a 77-62 game Saturday at Sexton Arena.
The St. John's (10-0 MIAC, 14-1 overall) guard and St. Thomas (7-4 MIAC, 9-7 overall) forward Ryan Boll led their teams in scoring. Boll posted 19 points and grabbed 7 boards, but Stockman's 26 points, including 10-of-16 from the field, and Weiss' 20 points and 12 rebounds were too much for Boll and the rest of the Tommies to handle.
Weiss scored six of the first eight Johnnie points to start the game as the teams went back and forth.
Minutes into the game, Tommie forward Elijah Hannah came off the bench, drained a three-pointer, then watched on defense as Stockman answered with a three of his own. Following, Hannah sank another three and, again, Stockman answered with his own to tie the game at 14. This ignited 11 Stockman points in a two-minute span.
As Stockman hit from deep, Boll was having his way inside. But it was Stockman who gave his team the lead and stretched it out after a right-handed finish inside in the final seconds of the first half.
The Tommies trailed the Johnnies 41-34 at halftime. Boll had 11 points and Hannah had eight. Stockman had 18 points and Weiss had 12.
From that point on, it was almost all Johnnies.
St. John's saw its lead jump to 14 points, but guard Michael Hannon did his best to keep St. Thomas in the game. Hannon hit two three-pointers that brought the score to 69-60 with just under three minutes remaining. On the next Tommie possession, Weiss sent a St. Thomas layup attempt into the Johnnie crowd.
St. John's guard Garrett Goetz would go on to hit the dagger, a three-point shot with just under two minutes left to play, as the Johnnies hung on to win.
With the win, the Johnnies stay perfect at the top spot in the MIAC. For the Tommies, the loss meant a drop in the conference standings, from second to third.
St. Thomas will travel to Winona on Monday for a 7 p.m. matchup against St. Mary's.
Gamiel Hall can be reached at gamiel.hall@stthomas.edu.