The Minneapolis campus cafeteria, Food for Thought, is St. Thomas students' favorite place for on-campus food, according to a TommieMedia survey.
The survey, aimed at gauging current St. Thomas student's satisfaction with on-campus food options, received a total of 469 responses from April 23 to May 14.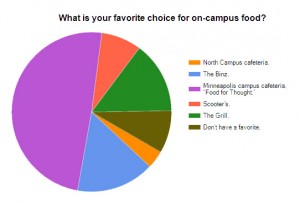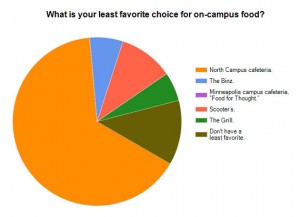 Food for Thought was the overwhelming choice for students' favorite on-campus food establishment, receiving 49 percent of the vote. The Binz Refectory finished a distant second with 15 percent of the vote.
Senior Adam Dressel said he eats at Food for Thought about twice a week and it's his favorite place to eat on campus.
"In my opinion, the best food is probably in Minneapolis because it's actually prepared right in front of you," Dressel said. "I know the Caf is working to change that for next year. Their food has gotten better but it still really doesn't compare to the Minneapolis campus."
The north campus cafeteria, affectionately referred to as "the Caf" by many students, received the most votes (65 percent) for the least favorite on-campus food option. In that category, Food for Thought didn't receive a single vote.
Director of Dining Services Todd Empanger said he isn't surprised at the results, and added that the north campus cafeteria's low popularity is likely due to its high volume cooking and an aging facility that doesn't allow for action station cooking.
"When I look at the dining rooms and favorite places, the Binz and Food For Thought are always the hottest here. The perception of having it cooked in front of you makes a huge difference," Empanger said. "We know [the cafeteria] is old, built in '62. We do what we can … By the time next year comes around, you'll see some change … We'll see some differences over time as Ken [Grogg] starts doing his thing."
With the arrival of new Executive Chef Kenn Grogg at the beginning of spring semester, students may have wondered if he would achieve his goal of making St. Thomas "the hidden gem among university dining services."
The survey asked students whether they've noticed a difference in food quality at the north campus cafeteria in the past few months, to which 55 percent answered, "No difference." But the next most popular response was "slightly better" with 20 percent of the vote, a sign that Grogg may be turning things around.
Empanger said it's still early and he expects students to see a change before long.
"He's only been here three months. He's never been in a college atmosphere before, more hotels and business operations, so he's seeing what is all involved," Empanger said. "To turn it around in within that time, it usually takes about a year, and we know that. So we're not putting too much pressure on him yet."
Come January 2012, Grogg and the north campus cafeteria will be relocated to the $66 million Anderson Student Center, a venue Empanger says will be fully equipped for the action station cooking that makes Food for Thought so popular.
"We will have the equipment to make it work. That's the key, because right now we don't have the equipment to make it happen," Empanger said. "There's no limit to what you can do … Now, you make a whole bunch of it up, it sits there, and nobody eats it, then you throw it away. We're going to try and reduce some of that."
Brent Fischer can be reached at bafischer@stthomas.edu.