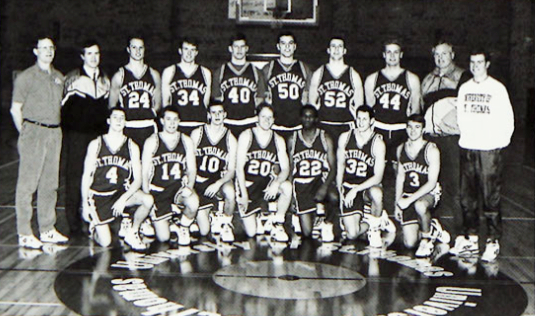 Few college basketball players are fortunate enough to reach the Final Four. Even fewer get to experience it as a player and a coach.
But John Tauer, assistant coach for the men's basketball team and a psychology professor, will get that opportunity. Tauer was a junior on the 1993-94 St. Thomas team that went to the Final Four, and he will return this weekend when the Tommies take on Middlebury College in Salem, Va.
Tauer said he remembers what it was like years ago when his team advanced through the tournament.
"It's one of those moments as a player where you pinch yourself, because growing up you dream of winning a national championship in college," Tauer said. "You feel like you're on a different stage."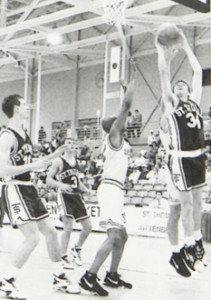 The 1993-94 Tommies advanced to the Sweet Sixteen the year before and had high expectations for the season. They finished 18-2 in the conference that year.
The Tommies played the first few rounds of the tournament at home, so their trip to Buffalo, N.Y., was the first and only road trip of the tournament. The Tommies faced the New York University Violets.
Matt McDonagh, a junior guard on the 1993-94 team, said coach Steve Fritz had some wise words for the team before the game.
"Johnny [Tauer] and I had always won, so we kind of expected to be here," McDonagh said. "Coach Fritz told us that this type of thing doesn't happen every year, and he told us to enjoy the experience."
The team lost to the Violets 75-68, eliminating the team from championship contention. Tauer has not watched the game on tape once since it was played 17 years ago, but he still remembers it.
"One of the memories I have is that it was such a blur, and it goes by so quickly. You work and train that hard and then in a couple hours it's over," Tauer said. "When you lose, it leaves you thinking, 'What just happened?'"
Tauer said he remembers one play that is "indelibly etched" in his memory. Down by two late in the game, NYU stole the ball and went for a layup, and Tauer fouled the shooter. With about a minute left in the game, fatigue set in, he said, and he began feeling the effects of the Violets' tough, physical play.
"They had worn us down, and at the end of the game I remember being absolutely, physically exhausted," Tauer said. "That was probably the moment where it hit us that we weren't going to win that game."
Tauer said he fondly remembers the support shown by St. Thomas fans during the Final Four. Students took buses to Buffalo to watch the Tommies battle for the championship, and Tauer said it meant a lot to the team.
"To see that kind of student support, that was one of the things I will never forget about that game," he said.
The locker room had a somber atmosphere following the loss as it hit Tauer and the team that they would no longer play together.
"A lot of tears were shed, but it was also tears of satisfaction and joy that we felt we had accomplished something that no one had ever done at St. Thomas," Tauer said. "Short of the national championship, we had achieved every one of our goals, and there was a certain level of satisfaction knowing we had done everything we could."
Tauer said coming back to the Final Four as a coach yields the same level of satisfaction, but he also noticed the emotions are different this time.
"As a player, you have that unbridled celebration," Tauer said. "I won't lie, as soon as we beat Augustana, I was thinking, 'I wonder if Middlebury won and when will we get their tape?'"
Tauer also said he notices some similarities between this team and his Final Four team.
"Both teams play really up-tempo, using fast breaks and full-court presses, and both use depth and play a lot of guys, and both had a really strong camaraderie and chemistry within the team," he said. "I think the '94 team blew more people out, but this team has shown an incredible knack for coming back and pulling out close games."
Both McDonagh and Tauer said the friendships formed on that team have stood the test of time.
"I keep in touch with almost all those guys. Many of them are my closest friends in the world," Tauer said. "Being a part of St. Thomas basketball is like being part of a family."
Dan Cook can be reached at cook9156@stthomas.edu.