The trek to the Anderson Student Center's third floor has proven to be an unpopular one, based on The Loft's lack of sales.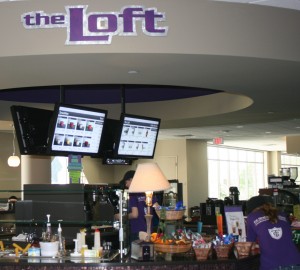 Since the smoothie and specialty drink cafe opened with the rest of the student center in January, it has failed to make a profit or break even, according to Director of Dining Services Todd Empanger.
"When kids are in a hurry to get a cup of coffee or something, they'll stop at Summit or T's rather than hit the elevator and go to the third floor and get a specialty drink or a smoothie," Empanger said.
Freshman Bailey Schirmers agreed that the location is the source of the problem.
"I think that The Loft should be either on the caf's level or down by T's because no one really goes up to the third floor," Schirmers said. "I don't really like walking up there."
Empanger said Dining Services has already made some changes to boost business. The Loft opens at 7:30 a.m., and it has extended the closing time from 3 p.m. to 6 p.m.
However, Stephanie Starr-Manley, the Pit Stop manager, said that the later closing time has not made much of a difference.
"We get a little bit of rush around 3 (p.m.) and then it's busy until 4 (p.m.) or so, but then it quiets down," she said.
Sophomore Allie Ferrazzo, an employee at The Loft, said she thinks that with the warm spring weather, the air conditioning and the smoothies will bring students up to the third floor of the student center.
"I know that with the library being so hot, a lot of people are coming here to study," Ferrazzo said. "We've noticed a lot more business."
Starr-Manley also hopes that the incoming freshmen will boost business because the student center will be the main "hang out."
"I think with the freshmen coming in, that will make a difference," Starr-Manley said. "They will make this part of their routine because they won't have another routine established."
The Loft also has a frequent-buyer punch card, which offers a free cup of coffee or espresso after buying 10 cups.
Empanger said that even if The Loft continues to do poorly, it will not be shut down, and Dining Services already has a few ideas about how to improve the business.
"We will just reinvent it. If what we're going to do becomes a reality, it's going to be busy," Empanger said. "We'll try a lot of stuff until we get the right fit."
Baihly Warfield can be reached at warf3860@stthomas.edu.