[slidepress gallery = 121027_football]
Sophomore quarterback Kyler Anderson said St. Thomas' "best offense is its defense" in the fourth-ranked Tommies' 30-14 home victory over Augsburg Saturday.
That defense held potent Auggie freshman quarterback Ayrton Scott to 91 yards rushing while also forcing an interception and a fumble. Scott averaged 147 rushing yards per game coming into Saturday's game.
"If they (the defense) can continue to put us back out on the field, that's great," Anderson said.
Who is Kyler Anderson? The third-string quarterback's only other appearance for the Tommies came late against Carleton earlier this season.
He started the game as the backup and finished as the starter. Anderson stepped in just 41 seconds into the third quarter, replacing injured junior quarterback Ben Duncan. Duncan was making his first career start in place of injured starter sophomore Matt O'Connell.
"By far, (it's) been our most tumultuous season in terms of injuries," coach Glenn Caruso said. "They just keep coming week after week."
As witnessed by its using numerous players, the depth of St. Thomas cannot be understated. Duncan's first career start marked the Tommies 18th starter on offense this season. St. Thomas also has not had the same starting 11 on offense or defense for two consecutive weeks this season.
"Fortunately our kids continue to step up week after week," Caruso said. "When one guy goes down, we have another guy prepared to step in."
The ground game played a major role in the first half, highlighted by the Tommies' rushing touchdowns by Duncan (11 yards, 1 yard) and freshman running back Jack Kaiser's 21-yard gallop. Senior safety Jack Gavin's incomplete two-point conversion pass was the only blemish on a solid first half of offense, leaving the score 20-0.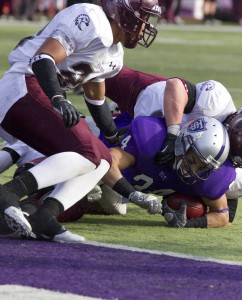 The Tommies have had a "running back by committee" this season and today was no different. Saturday's game marked the fourth different starter at running back, redshirt freshman Brenton Braddock. Braddock and Kaiser, who finished with a career high 110 yards, combined for 188 yards.
"We wanted to run the ball today and we wanted to get in a rhythm," Caruso said. "Both of those guys did a fantastic job."
The Tommie defense held Scott and the Auggies to 96 yards of offense in the first half and was highlighted by sophomore cornerback Sean Hamlin's interception.
"We were in man coverage," Hamlin said. "I just tried to lock on him and stay on top."
Tommies "stay on top" in second half
After rushing for 13 yards and picking up a first down on the Tommies' opening possession of the second half, Duncan left the game and wouldn't return, paving the way for Anderson to step into his first "real" action.
"I wasn't really expecting to get in," Anderson said. "I guess you've gotta step up."
Anderson finished the contest 4-of-9 for 83 yards and ran for 69 yards.
His counterpart Scott, who Caruso calls a "fantastic football player," will no doubt be terrorizing St. Thomas defenses for the next three years.
"When you face a quarterback that dynamic, you can't always bring pressure," Caruso said. "He'll make you look silly."
Scott orchestrated impressive drives of 10 and 13 plays for the only two Auggie scores. Scott hit junior wide receiver Tyler Swanson for an 11-yard touchdown late in the third and added a 7-yard touchdown run with 9.6 remaining in the game.
The defense, who welcomed back starting senior safety Tyler Erstad, knew it was going to have to contain Scott to come out in the ascendency.
"We knew that this offense was going to be the best we've faced so far," Hamlin said. "To shut these guys down, the best we could, was great."
St. Thomas added 10 points in the fourth quarter in the form of freshman kicker Paul Graupner's 27-yard field goal and freshman tailback Dominic Truoccolo's 1-yard touchdown run, cementing the Tommies 30-14 victory.
With the amount of injuries piling and a tough game ahead, Anderson feels the team's chemistry plays a huge role in the success the Tommies have seen this season, regardless of who's in at what position.
"Stick to the family," Anderson said. "We have each other and we have everybody's back."
St. Thomas travels to No. 22 Concordia-Moorhead (7-1, 5-1) next weekend for a 1:10 p.m. kickoff.
Ross Schreck can be reached at schr8250@stthomas.edu.