Video by Jordan Osterman
Although St. Thomas has had no trouble putting points on the board this season, the Tommies had their biggest offensive explosion of the year Saturday.
St. Thomas amassed 484 yards of offense in a 61-17 thrashing of the Hamline Pipers Saturday at Klas Field. This was the fifth time in seven games that the Tommies scored at least 40 points in a contest this year, and their third time scoring at least 50.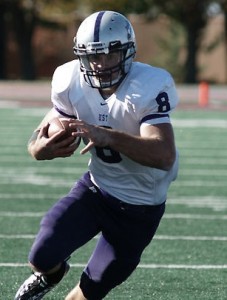 The Tommies scored five touchdowns in the second quarter, giving the team a commanding 41-7 lead at halftime. The Tommies were able to score quickly and efficiently in the second quarter, where two touchdowns were scored on the first play of drives.
Junior quarterback Dakota Tracy led the offense with 221 passing yards for four touchdowns. He also caught a touchdown reception on a trick play.
"Dakota had a heck of day," Coach Glenn Caruso said. "He was kind of a jack-of-all-trades this week."
The Tommies were able to shut down the Pipers' special teams. The defense put consistent pressure on Hamline punter John Broback.
"He's among the best in the league," Caruso said. "We just thought that to let him sit back there and boom one would probably not be doing justice, so we had to put pressure on him."
Senior defensive back Brady Ervin said attacking Broback was part of the gameplan.
"We were going to come at him all day," Ervin said. "We were going to try and get a blocked punt, and we did tip one."
The pressure on Broback also had a positive effect on junior kick returner Fritz Waldvogel and the rest of the special teams.
"[Our pressure] slowed up their downfield coverage, and we were able to get a couple good returns out of it," Caruso said.
The Tommies were able to get good field position throughout the game on Hamline punts. Waldvogel had four returns for 70 yards, and almost broke through for a touchdown on one kick.
READ MORE, SEE MORE
"We really wanted to come in and have really good kickoff coverage and punt coverage," Waldvogel said, "and we did that today, so we're happy."
The Tommies also added some trickery to the gameplan, successfully recovering an onside kick and executing a double-reverse.
"We can't allow teams to be unsound," Caruso said. "If we see something, we've got to make them pay."
The onside kick came after a Brady Ervin interception return for a touchdown. Although the play came as a surprise to many fans, Caruso said there was some justification for the play.
"If we were going to take a calculated risk, we were going to do it after a defensive score," Caruso said. He added that the Tommies were trying to get the ball in the offense's hands to give the defense a break.
The 22-yard double-reverse touchdown pass to Tracy from junior receiver Nick Gleisner definitely got people talking.
"We've been running it for a couple of weeks, and we decided it was good time to run it," Waldvogel said. "Gleis had a nice throw, and it worked out."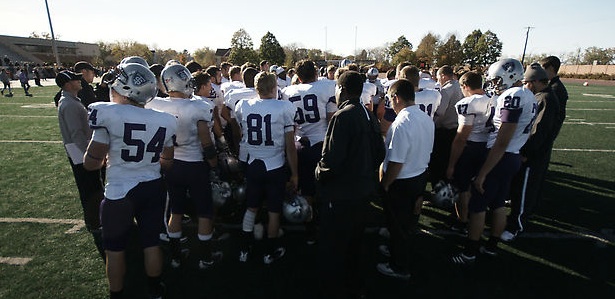 The Tommies will play undefeated Bethel next week in St. Thomas' homecoming game. Caruso said his team will be ready for the game.
"Our guys have worked tirelessly for a long time to make this a big game," Caruso said, and it'll be a great environment next week, no question."
Dan Cook can be reached at Cook9156@stthomas.edu.