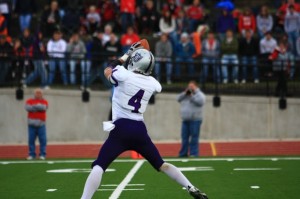 University of St. Thomas sophomore wide receiver and returner Fritz Waldvogel won the 2009 Jim Christopherson MIAC MVP award.
Waldvogel tallied 59 catches for 706 yards and four touchdowns in conference play. He added 313 yards and two touchdowns on 10 kick-off returns in eight games.
"I was a little surprised and completely humbled," Waldvogel said. "But I'm more focused on the team's success right now."
Waldvogel found out he had won the award from a friend's text message. He is the first St. Thomas winner and first sophomore recipient of the award. He is the first Tommie football player to win an individual MIAC award since 1996.
"This season has been a blast. I have nothing to complain about," Waldvogel said.
Generously listed at 5 feet 9 inches, Waldvogel has used his "liabilities" as strengths, coach Glenn Caruso said.
"What makes Fritz [Waldvogel] wildly successful is he takes what other people see as liabilities and turns it into strengths," Caruso said. "A lot of people tell him 'He can't' or 'He's not big enough' and 'He can't lead the nation in kick returns.' But he's used it as a positive to motivate him."
It also doesn't hurt that Waldvogel is about as elusive on the field as they come.
"There's dozens [of returners] that can make you miss in the area of a boxing ring," Caruso said. "But there's very few [like Waldvogel] that can make you miss in a phone booth."
More than just Waldvogel honored with MIAC awards
As part of a conference-wide sportsmanship initiative, the MIAC also announced the fourth annual All-MIAC Sportsmanship team for football. Members of the All-MIAC Sportsmanship team are selected by their coaches and teammates as individuals who demonstrate ideals of positive sportsmanship both on and off the field of competition.
Waldvogel is one of eight Tommies named to the 35-man all-conference first-team. He joins juniors Cyrus Allen, Josh Ostrue, Ben Wartman, Brady Ervin, Zach Sturm and Bryan Villar who were also given the award, as well as sophomore Chad Vandergriff. Sturm was also named to the conference All-Sportsmanship team, while sophomores Colin Tobin and Jon Curtis made the All-MIAC second team.
"It's humbling and I was definitely not expecting it," said Allen on being named to the first team. "It feels good to have your hard work appreciated."
St. Thomas led all MIAC teams with eight players on the All-MIAC first team. St. John's had the second most honorees with six.
Shane Kitzman and Jordan Osterman contributed to this report.
Shane Delaney can be reached at smdelaney@stthomas.edu