It was the Fritz Waldvogel show for St. Thomas on Saturday as the Tommies opened conference play with a bang, dominating St. Olaf 49-14 in Northfield, Minn.
The junior wide receiver was nearly unstoppable, scoring three touchdowns and leading all receivers with 12 receptions for 239 yards.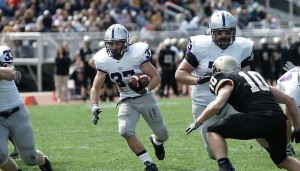 READ MORE, SEE MORE
"Fritz has been waiting to have a game like this," junior quarterback Dakota Tracy said. "I think he came out here and wanted to prove to some people what he can do and prove to himself he can do it. I think the game meant a lot to him."
The Tommies started the scoring early with Tracy finding Waldvogel for a 48-yard score in the first quarter. Later in the quarter, Tracy found Waldvogel again as the receiver made an acrobatic catch for a 42-yard touchdown.
"They were going to fill up the box so we had to take advantage of the outside, and we did that," Waldvogel said.  "The first [touchdown] was more of just a short pass and [I] made somebody miss. The second one was just a deep shot, and you got to take those in the game, and we converted."
Although Waldvogel was the game's standout player, the Tommie defense put together one of its best performances of the year, holding the Oles to just 14 points and forcing four turnovers.
Junior linebacker Mike Valesano said stopping the Oles rushing attack was part of the Tommies game plan.
"The coaches stressed it, like they do every week, to stop the run," Valesano said. "We did that, and they started going to the pass. We had them from there."
In the second quarter, junior running back Colin Tobin faked a sweep and threw a touchdown pass to Waldvogel, giving him three total touchdowns.
"We just put the play in this week," Tobin said. "I just wanted to sell the run, and I saw a little pressure off the edge so I had to set up a little bit earlier then I thought. After that, I just let it go and let Fritz do his thing."
Later in the second quarter, junior linebacker Willie Baregi put a devastating hit on St. Olaf quarterback Dan Dobson, causing him to fumble. The ball was recovered by sophomore Kevin Potas.
The turnover led to a five-yard touchdown pass from Tracy to junior tight end Ben Graham.
Senior Kirk Baglien prevented the Oles from going into halftime with any points when he intercepted a Dobson pass with 10 seconds remaining. The Tommies cruised into halftime with a 28-0 lead.
"We always say it's a zero-zero game when we come out of halftime," coach Glenn Caruso said. "We judge ourselves on how we finish. We thought the opposition was ready to keep scrapping and fighting, as they did, and we needed to be able to not just match that intensity, but beat it."
Any questions about second half intensity were answered right away as the Tommies opened up the third quarter with a two-yard touchdown run by Tobin. Tobin led the Tommies in rushing with 85 yards on 14 carries with both a rushing and passing touchdown. All-American running back Ben Wartman, a senior, did not dress due to injury.
"Colin Tobin was our backup running back last year, and he was the second team all-conference back," Caruso said. "I feel entirely comfortable with him toting the load if need be."
Wartman is listed as week-to-week, and Caruso said that when Wartman's 100 percent, he'll be ready to go.
Midway through the third quarter, the Tommie defense finally gave up its first touchdown when Dobson found senior captain Antonio Jennings for an 11-yard touchdown. The Tommie offense answered right back when junior wide receiver Ricky Margarit caught junior Greg Morse's pass in the end zone for a 14-yard touchdown. Morse and Tracy combined to go 19-26 through the air for four touchdowns and no interceptions.
The fourth quarter opened with the Oles taking the ball 79 yards on 13 plays, resulting in a Dobson touchdown pass to sophomore wide receiver Casey Leslie.
Senior linebacker Tommy Becker wasn't happy with the drive.
"That drive started with a mental error on specials teams… we can't have that," Becker said. "There's still a lot of room for improvement. It's only week three. We'll get back to work on Tuesday and try to clean things up."
The Oles continued to move the ball late, but the Tommie defense held strong. Senior Brady Ervin intercepted a Dobson pass for his third interception of the year, and sophomore cornerback Chinni Oji returned his first career interception 60 yards for the game's final touchdown. Senior Bryan Villar led the Tommies with 10 tackles.
St. Thomas now sets its sights on MIAC opponent Concordia-Moorhead (1-2). The game will be played at 1 p.m. next Saturday at Palmer Field.
Ryan Shaver can be reached at shav7005@stthomas.edu.