[slidepress gallery='101002_tjfootballvideo']
Video by Michael Ewen
COLLEGEVILLE, Minn.- Coach Glenn Caruso hugged senior running back Ben Wartman in celebration after the Tommies' overtime 27-26 victory Saturday at Clemens Stadium.
THE GAME IN PHOTOS
"I'm so proud of you," Caruso said, as he grasped onto the Tommies' All-American running back. "I'm so proud."
The Tommies were tied 20-20 when the game went into overtime. Wartman scored a 10-yard touchdown, which would eventually win the game.
Wartman came into Saturday's game nursing an injury he sustained against Wisconsin-River Falls two weeks ago. Earlier this week, it was uncertain whether or not he would even play. He had never missed time due to an injury, he said.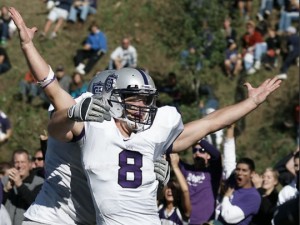 "It sucks that it happened my senior year," Wartman said. "I was working hard in the training room trying to get back for this game. I came into this game with a little pain, but, you know, I just had to push through it.
He did more than push through it. He led the Tommies to their first victory over the Johnnies since 1997, and their first victory in Collegeville since 1986.
Wartman finished with three touchdowns and 154 yards, including the overtime touchdown . He celebrated it by jumping into the stands with Tommie fans.
"It felt great getting in there with all those fans," Wartman said, smiling.
Wartman played "a little subpar" during the first half of the game, Caruso said, but he improved tremendously in the second half.
"We challenged him at halftime," Caruso said, "and he came through pretty big."
'Mentally tough'
Despite four turnovers — three fumbles and one interception — the Tommies rallied to victory, Caruso said.
"Our guys are very mentally tough, as I've been saying for three years," Caruso said. "What I loved about the game was, at the end, our guys found a way to make plays."
There were six different lead changes throughout the game.
Junior receiver Ricky Margarit hauled in a 39-yard touchdown pass from junior quarterback Dakota Tracy to tie the game 7-7 late in the second quarter.
Margarit credited Tracy's throw on the play.
"He threw it in a perfect spot where only I could get it, and I came down with it," Margarit said.
After trailing at half, the Tommies took the lead on a Wartman 4-yard touchdown run, but St. Thomas lost it a few minutes later when Johnnie quarterback Joe Boyle led the Johnnies into the end zone.
Wartman was the only Tommie who would get in the end zone for the rest of the game. He scored on a short run in the third quarter, a short run in the fourth quarter, and he punched in a 10-yard touchdown in overtime.
'An unbelievable step in the right direction'
As Tommie fans stormed the field to celebrate with the team at the end of the game, the 50-yard line at Clemens Stadium turned into a sea of purple. Fans haven't had an opportunity to rush the field at Clemens Stadium since 1986.
The Tommies are now first in the MIAC, and could potentially move up in the national rankings. It's "an unbelievable step in the right direction" for the St. Thomas football program, Caruso said.
"This program has taken so many steps over the last two and a half years," Caruso said. "This is another step on our journey. I'm pretty happy with where it's going right now."
And for Wartman, a senior, the win was sweet revenge.
"I suffered three years losing to St. John's," Wartman said. "It finally feels great to come out here [and get] a complete team win."
Miles Trump can be reached at mttaylorjohn@stthomas.edu.