For some freshmen students in Ireland Hall and Dowling Hall, turning their rented bed lofts in a week before finals has caused some frustration.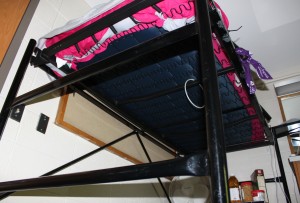 "We have stuff underneath our lofts; when we have to move it, where are we supposed to put it?," freshman Kirsten Mueller said. "It's kind of a hassle because we only have one week left, and it would be easier to do it after we have moved everything out."
Director of Residence Life Aaron Macke said the Friday, May 11, move is so students moving the lofts do not disrupt others studying for finals and can move out 24 hours after their last final.
"As big of a hassle it is for students to live that next week not in their current arrangement, it would be a far bigger hassle to try and coordinate the delivery, pick up and move out together," he said.
Macke said there is no way a company could be on campus every day to accommodate every student's schedule. Instead, the company sets one day aside and is available for pick up between 8 a.m. to 5 p.m.
"(Bedlofts.com) does it for hundreds and hundreds of colleges, and this is the national standard to do it right before finals. They have always done it then," Macke said.
Assistant Director of Residence Life Bryan Helminiak said 245 students in Dowling and Ireland combined rented bed lofts this past fall from Bedlofts.com. However, Helminiak said many more students used the website before Brady, Cretin, and Grace Halls started receiving lofts from the university.
"Essentially they are in a contract with Bedlofts.com," Helminiak said.
Helminiak added that if a loft doesn't get returned, there is a charge.
Dowling freshmen Claire Decelles and Kristin Asmus said they will need assistance taking down their bed lofts, and Asmus said her parents will have to come and help her.
"I would have no idea how to even start to take that apart," Decelles said.
Freshman Collin Magnuson said the university should just provide students in those halls with lofts.
"Students have to worry about moving stuff out when they should be worrying about studying," Magnuson said.
Macke said that in the future, Residence Life hopes to provide lofts to Ireland and Dowling.
"It's our hope that as the future goes on, to continue to update our system and give them to those halls too," he said.
Kelsey Broadwell can be reached at broa3322@stthomas.edu.