Curtis James, business communications major, 3.26 GPA
James is from Edina, Minn. He is an offensive lineman for the St. Thomas football team and was co-host of the Fall Pepfest. He is involved in the Student Athletic Advisory committee, Up 'Til Dawn and co-founded the "IamSecond" faith group.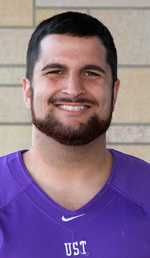 James has achieved dean's list honors and was named All-American twice for football. He is also a Gagliardi Trophy finalist.
James said St. Thomas attracts "driven, hard-working, goal oriented and all over amazing" people, and that has been the best part of being a Tommie. He said he has made some of the best friends he could ask for.
James, 22, is the youngest high school head speech coach in Minnesota history, and said that makes him unique. He said he was assistant coach at Edina High School for four years and was offered his new position this summer.
James said he will graduate after fall semester and will spend the rest of the winter and spring training for the NFL. After winning "Intern of the Year" during a summer internship at Allianz Life Insurance Co., he was offered a full time job, which he said he will take after he finishes his football career.
Editor's note: TommieMedia columnist Geena Maharaj and creative designer Jessica Root were not involved in writing or editing this report.