Eyo Ekpo, entrepreneurship and finance double major, 3.7 GPA
Ekpo is from Andover, Minn. He is a member of the track and field team, the business fraternity Delta Sigma Pi, and the honor societies Beta Gamma Sigma and Delta Epsilon Sigma. Ekpo also played football his freshman and sophomore years and has been involved in the Undergraduate Business Council, Student Athletic Advisory Council, Student Legacy, Practicing Entrepreneurs, Volunteers in Action, Tommie Ambassadors, Real Estate Society, and Gibney Student Board.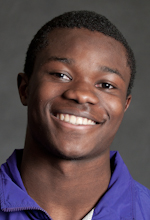 Ekpo has achieved dean's list honors five times and is captain of the track team. He has been named All-American four times, academic All-American three times and first-team CoSida All-American Team.
Ekpo said the best part of his time at St. Thomas has been the faculty and peers he has met and had the chance to "share amazing memories with." Ekpo said he enjoys the cafeteria, and tries "to sneak (his) way in thanks to the generosity of (his) friends' guest passes."
Ekpo said his unique fact is that it is "physically impossible for me to float," and said that it may be more of an excuse to stay in the shallow end of pools.
After graduation, Ekpo has his own plans.
"Continue to be the big kid I am," Ekpo said. "Hopefully get a job. Somehow get rich. Give back."
Editor's note: TommieMedia columnist Geena Maharaj and creative designer Jessica Root were not involved in writing or editing this report.