St. Thomas is now accepting applications for the 2011 Tommie Award, an award with a long history dating back 80 years to 1931. The prestigious award is given to a St. Thomas senior based on his or her leadership, service and scholarship with the university.
The honor was formerly known as the "Mr. Tommy Award," and the award process was run by the student newspaper, The Purple and Gray. Eventually, the award was just called the "Tommy Award" after women were admitted to St. Thomas in 1977. The award name has evolved into the "Tommie Award" with the spelling change of Tommie, and the award process is no longer run by a student publication.
Some award winners still active at St. Thomas
The first female Tommie Award winner, Rachel Wobschall, now works at St. Thomas as the executive director of alumni and constituent relations. Her award plaque hangs in her office, and has the 1981 Tommie Award on her resume.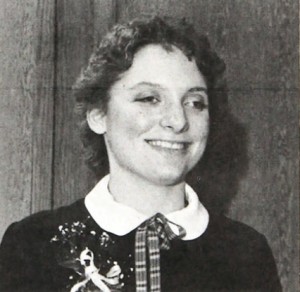 "I was the only woman nominated at the time. It was the first co-ed class to go all four years through St. Thomas," she said. "It was kind of the first year that a woman was nominated, if I recall correctly, and I was very fortunate to be the honoree."
Wobschall was a political science major and worked in government for about 20 years before returning to St. Thomas. She said she did not realize how much of an honor it was to win the award until she left campus. She said people would ask her about it.
"I am really proud of having been a recipient," she said. "It's very nice. People who are St. Thomas alums have continued to recognize it."
Wobschall interacts with fellow Tommie Award winners on a regular basis. Mark Dienhart, executive vice president and chief operating officer; Steve Hoeppner, executive director of development; Steve Fritz, director of athletics; and Liz Zupfer, manager of alumni systems, are all award winners who currently work at St. Thomas.
Voting has changed with technology
Five seniors were on the first ballot. Last year, 25 students were on the preliminary ballot. Ballots used to be collected and tallied by hand, but today, all votes are electronic. In the first years of the Tommie Award, only students could vote. In more recent years, students, faculty and staff have all been eligible to vote.
Director of Student Engagement Vern Klobassa said the Tommie Award is going green this year.
"All the nomination components are digital," he said. "So we require e-mail submission of forms as opposed to paper submission of forms."
Klobassa reviews Tommie Award applications and has already received some nominations. He said it is "rewarding to read about all of the significant contributions that our students make to the university."
"I think this award is a very good representation of the character and quality of students we have attending the university," Klobassa said. "To have a significant portion of the students who qualify for the award is outstanding and it's really a great representation of what we have to offer at St. Thomas."
2011 Tommie Award timeline
Nominations are due at 4 p.m. Nov. 15. Nominees will be notified Nov. 19.
From Dec. 6 to Dec. 9, preliminary voting will be available online. After the three finalists are announced, students, faculty and staff will vote again in February to select the award winner, Klobassa said.
The Tommie Award winner will emcee the Spirit of St. Thomas celebration and have the opportunity to speak at graduation, Klobassa said.
Theresa Malloy can be reached at mall5754@stthomas.edu.