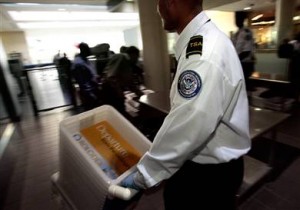 For some St. Thomas students, a frigid Minnesota winter was far from their minds as they packed to spend their January Term studying abroad.
While international traveling was a breeze for some, a few Tommies found it difficult getting through security at the Minneapolis-St. Paul International Airport.
Air travel regulations have been dominating the news since Christmas Day when a Nigerian man failed to detonate a bomb onboard Northwest Airlines Flight 253 from Amsterdam to Detroit. Some students noticed the tightened security measures.
"I left for Amsterdam on Jan. 5 and I remember a bunch of news crews outside of Lindbergh Terminal," said junior Leah Renter, who flew to London for an English course. "I remember watching Obama's speech on security right before leaving. Security was definitely tighter than I remember for international flights."
But some students, such as senior Jonna Haddaway, hardly noticed any difference as far as airport regulations.
"The flight to London was not bad in terms of security, we went through pretty easily," Haddaway said. "The security seemed routine and I travel a lot so I would be able to tell easily if there was a tense atmosphere."
However, Haddaway said some of her classmates were nervous to fly following the recent attempted terrorist attacks.
Renter said she did notice some major differences traveling this year than in the past, such as random and more frequent security checks.
"I was stopped by security in Amsterdam for a random check," Renter said. "I was asked where I came from and where I was headed."
Haddaway said that the media build-up was out of proportion to what she experienced during her flight.
"The media seemed to play it up by saying there would be rules like not being able to use the bathroom an hour before landing," she said. "This was not a requirement on our flight."
Senior Robbie Brink traveled to Hawaii for J-Term after spending the fall semester in Chile. During his travels, he noticed many differences in security between countries.
"It's funny how the different countries act," Brink said. "Because in Chile there was no really no concern for terrorism, regardless of what happens in the U.S."
But traveling after Christmas was a different story. Brink said he saw more extensive security at checkpoints.
"There was a gentleman in front of me who set off the metal detector and he was searched much more thoroughly than I had ever seen in the past," he said.
Renter doesn't mind the heightened security.
"Security is kind of a hassle," she said. "But looking on the bright side, this is probably one of the safest times to fly because of it."
Ellie Galgano can be reached at agalgano@stthomas.edu