A gathering of smiling faces danced, decorated colorful cupcakes, and took selfies with President Sullivan during the Night of Noise event hosted by the St. Thomas Allies Club.
The Allies, supporters of LGBTQA+ students, joined forces with faculty allies to raise awareness and create a stronger LGBTQA+ community during the on campus event Thursday.
What started as a somber Day of Silence for participating students and faculty erupted into a Night of Noise celebration. Connected to a nationwide event Friday, Allies gathered in the Woulfe Alumni Hall to create an inclusive and strong community among LGBTQA+ students and faculty.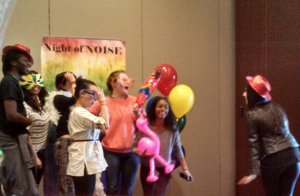 Theology professor and Allies faculty adviser Cara Anthony said she wanted to inform LGBTQA+ students who feel alone on campus that there are others out there.
"This is a connecting event," Anthony said. "This is a community event that says everybody is part of this community and that everyone of every gender and orientation is a community member and is welcome."
Students and faculty, including Sullivan, attended the event featuring open mic performers, live singers, spoken word poetry, a photo booth and cupcake decorating. Prior to the festivities, a moment of reflection and prayer was held to close the Day of Silence.
Sullivan said that this strengthening of the community is vital to the university's mission.
"St. Thomas' mission is to have a welcoming atmosphere for all of our faculty, staff and students, and to make sure we have a respectful atmosphere where everyone feels comfortable exploring themselves and their own identities," Sullivan said. "I hope that everyone feels their own dignity is promoted and respected, and that all people in our community are cared for as fellow human beings."
For the first half of the day, participants limited their conversation, some remaining completely silent until the event. Sophomore MacKenzie Watson remained silent and related to the silence on a personal level.
"I'm trying to raise awareness for the fact that as an Asian dating a white guy, that wouldn't have been accepted so many decades ago," Watson said. "I would like to work to see my kids, if they are not traditionally oriented, be just as free as I am."
Junior Christlo Gittens said this was an important day for the LGBQTA+ community.
"It's recognizing what's going on out there, and I feel like it's working," Gittens said. "It shows that we've become more aware of the people whose voices are silenced by bullies because girls like girls or dudes like dudes."
Allies event organizer Sarah Strain said she did the best she could by cutting out small talk with her friends.
"Day of Silence is just to bring awareness to the harassment and bullying that a lot of gay and lesbian, bisexual, transgender people face in the workplace and in schools," Strain said. "They feel silenced, and by choosing to be silent, we're bringing awareness to it."
However, senior Taylor Graupmann said he thinks drawing attention to the cause may alienate others.
"Personally, I think being more involved makes it a bigger deal than it is," Graupmann said. "It just makes a bigger divide."
Anthony said a contributing factor to this divide in the past has been confrontation between the LGBTQA+ community and the Catholic Church.
"One thing that people are pretty familiar with is that there are tensions between Catholic teaching and some aspects of the LGBT community," Anthony said. "But what people don't know about are that there are also places where they all agree. That includes things like every single person has dignity, value and worth, and that nobody can take that away from you."
Watson said she was surprised that the event was held at a Catholic university.
"I was actually really shocked that it is here," Watson said. "I think it's really important to realize that you don't have to give up your personal beliefs. One can be a Catholic and support the cause."
Hoping to make it an annual event, Strain said it is a religious experience to her.
"It really expresses the Catholic faith, to love everyone and to be open," Strain said. "To me, this is what faith is. To be loving to everybody and letting people be who they truly are."
Simeon Lancaster can be reached at lanc4637@stthomas.edu.